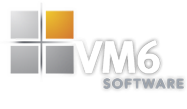 VM6 Software will help us expand our business and achiev greater growth. We are pleased to become the only VAD in the Belux for the introduction of this innovative technology.
Aartselaar, Belgium (Vocus/PRWEB) March 29, 2011
interAct, the value division of Ingram Micro Belux, announced today that it has become a value-add distributor (VAD) for VM6 Software's VM6 VMex, the all-in-one IT virtualization infrastructure software. This agreement will further help interAct extend the reach and benefits of virtualization to small and medium-sized businesses (SMB) in Belgium and Luxemburg. interAct will actively support its resellers with marketing campaigns, certification training, sales training and other resources.
Traditional high-availability solutions can be costly, not always easy to implement and require technical expertise to manage. VM6 Software provides high-availability to Microsoft Hyper-V by integrating virtual servers, shared storage and clustering into a single software package. As a result, VM6 Software drastically reduces the cost and complexity of deploying a high-availability virtualized environment and makes it affordable to most SMBs. VM6 VMex increases the level of availability for all applications and ensures businesses meet service level agreements. VMex eliminates planned downtime, prevents unplanned downtime and helps SMBs recover instantly from outages.
Rudi Lenaerts, CEO of interAct and director of Ingram Micro Value Division said, "Highly available virtualized environments continue to be a primary concern for the SMB market. We reckon that VM6 Software will help us expanding our business and achieving greater growth. We are also pleased to become the only VAD in the Belux for the introduction of this innovative technology."
"With a wide footprint in the Belux and deep knowledge of virtualization and datacenter technologies, interAct was the obvious choice for VM6 Software in establishing a first relationship in the region," said Claude Goudreault, founder and CEO of VM6 Software. "We are committed to building long-term relationships, like this one with interAct, to help increase profitability and maintain the highest level of customer satisfaction."
Resellers will rely on the strong pre-sales, post-sales, marketing and training support of interAct. Programs will include sales and certification training, workshops and marketing campaigns. Resellers who are interested in more information can contact VM6(at)interact(dot)be.
ABOUT INTERACT
Founded in 1996, interAct is the value add distributor specialized in Data Center solutions. The company is the main distributor in the Belux for AppSense, Citrix, DataCore, Endeavors Technologies, IGEL, Immidio, i365, Lanamark, Marathon, Microsoft, NComputing, Platform Computing, RES Software, SonicWALL, ScriptLogic, ThinPrint, VASCO and VM6. Its services offering includes pre- and post-sales support, technical consultancy, marketing support and training. Since September 2010, interAct is a wholly-owned subsidiary of Ingram Micro Belgium, constituting a new leading Value Division on the market in Belgium and Luxembourg, and serving a network of more than 4500 resellers and qualified partners.
ABOUT VM6 SOFTWARE
VM6 Software, Inc. provides the only scalable, all-in-one virtualization software that dramatically simplifies and reduces the cost of deploying high-availability virtualized infrastructure for small and medium-sized businesses (SMBs). VM6 VMex™ software eliminates complexity and cost by integrating virtual servers, storage and clustering into a single package. VMex simplicity and cost-effectiveness make high availability virtualization accessible to the masses. VM6 Software is privately held and headquartered in Montreal, Canada.
# # #