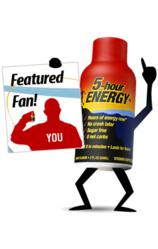 Farmington Hills, MI (Vocus/PRWEB) March 28, 2011
After receiving another successful round of 5-hour ENERGY® Featured Fan Contest Submissions, the 5-hour ENERGY team has selected 20 die-hard fans to carry the torch as brand ambassadors. To gain entry to the contest, participants were asked to submit a Featured Fan photo an accompanying description by Wednesday, March 16. The contest winners, our very own hardworking heroes, will be rewarded with 72 free bottles of the 5-hour ENERGY shot in the flavor of their choice.
From busy moms and new dads to Emergency Medical Technicians and radio DJs - those chosen as Featured Fans are the tried and true 5-hour aficionados who use the energy shot to stay on top of their game.
Richard Massey, a cook at a fast-paced restaurant, said "I frequently work 10-14 hour days. 5-hour ENERGY makes the last half of my workday feel like the first half." Lucky for Richard Massey and his 5-hour ENERGY cohorts, the newest Featured Fans will soon be sent a stockpile of 5-hour ENERGY to put to use in kitchens, military units, sparring rings and workplaces across the country.
Maggie Crisman is another example of a dedicated individual with a fully loaded plate. Maggie said, "Thanks to 5-hour ENERGY I am now a certified EMT. 5-hour ENERGY was the reason I was able to keep going through my normal work day, my shift in the ER and my state exam."
It's under stressful situations like these that indubitable 5-hour fans are forged. They're the kind of individuals that engender perseverance and their commitment to their own trades keep the rest of us motivated. However, those who work hard, often make time to play hard - and according to these Featured Fans, they still reach for the trusted energy shot in times of celebration.
Featured 5-hour ENERGY fan, Lisa Weir, said "[My wedding] was a weeklong marathon of entertaining, late nights and out of town guests and I had to keep up with everything. 5-hour ENERGY got me through the biggest night of my life." Fortunately for Lisa and her new husband, they have a hefty supply of free 5-hour coming their way.
Though the 5-Hour Energy Featured Fan Contest has come to a close, the 5-hour ENERGY team is currently reaping the submissions for two other 5-hour ENERGY fan contests. The Where's Your 5-Hour Energy Shot?" contest runs until Thursday, March 31 and the "5-Hour Energy Racing Scavenger Hunt" Contest runs through November. Descriptions of these as well as information regarding the 5-Hour Energy Racing team, 5-Hour Energy commercials and 5-Hour Energy downloads can also be found within the Fan Zone.
About 5-hour ENERGY®
5-Hour Energy® is a liquid energy shot that provides hours of energy and alertness. It contains a blend of B-vitamins and amino acids, zero sugar and four calories. It is available at retail outlets in the United States and Canada as well as throughout the U.K., Ireland and the Netherlands.
# # #