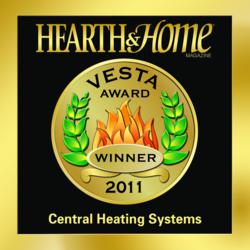 The Vesta Award is a testament to our commitment to product quality and innovation.
Salt Lake City, UT (Vocus/PRWEB) March 30, 2011
Pro-Fab Industries, North America's leading designer and manufacturer of clean burning alternative energy heating systems, received the Vesta Award for the Empyre Elite 100, the best new product featured at the 2011 Hearth, Patio and Barbeque Expo (HPBExpo) in the Central Heating Systems category. Vesta Awards, presented annually by Hearth & Home Magazine at the industry-wide awards ceremony during the HPBExpo, are among the most prestigious in the wood heating and hearth industry. These awards recognize and honor innovation in design and technology in Hearth and Outdoor Room categories.
Empyre Elite 100 was presented the 2011 Vesta Award for the # 1 product in the Central Heating Systems category on March 4, 2011. As the first indoor wood boiler to achieve Phase II emission qualification by the Environmental Protection Agency (EPA), Empyre Elite has made alternative energy available to more homeowners by bringing high efficiency central wood heating systems indoors.
Rated at 89% efficiency and using only half the wood of conventional wood boilers, Empyre Elite is a high efficiency, low emission alternative to both fossil fuels and conventional wood boilers. With a two stage boiler design and temperatures reaching up to 2,000oF burning the combustion gases in the lower burn chamber, Empyre Elite achieves virtually smoke free operation and provides comfortable hydronic heat. Empyre Elite's Electric Element Option also makes wood heating more simple and convenient by allowing homeowners to easily switch between wood and electric heat.
"The Vesta Award is a testament to our commitment to product quality and innovation," says Grant Cairns, Vice President and General Manager of Pro-Fab Industries Inc. "At Pro-Fab Industries, we design our products with the customer in mind, always seeking to improve efficiency, accessibility and ease of operation. The Empyre Elite 100 is truly innovative in the wood heating industry. Not only is the Elite the first EPA White Tag qualified indoor wood boiler, its many convenience and security features make it the luxury model of wood boilers at an economy price."
Pro-Fab Industries has been at the forefront of the drive towards environmental awareness and clean burning technology. Empyre Pro Series High Efficiency Outdoor Wood Boilers were among the first to achieve EPA Phase II qualification. Pro-Fab Industries has released new clean burning models annually since its EPA debut in 2008. Pro-Fab Industries Inc. has been North America's leading designer and manufacturer of alternative energy biomass heating systems for over 20 years. Pro-Fab's family of highly efficient biomass boilers incorporates state of the art engineering and technology with a commitment to protecting the environment. Pro-Fab has a boiler for every application, with furnaces designed for homes, schools, greenhouses, pools and much more. Our furnaces are available through retailers and contractors across Canada, the United States and around the world.
To learn more about Pro-Fab Industries' products and services, visit http://www.profabgroup.com.
# # #