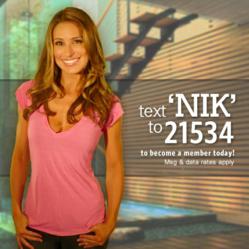 New way for consumers to get last minute offers on soon-to-expire goods and services...in the Nik O'Time.
Los Angeles, CA (PRWEB) March 29, 2011
Launching this week, Nik O'Time is a brand new way for consumers to discover extremely time-sensitive offers from their favorite businesses. Nik O'Time will reach consumers via text and video messaging (SMS & MMS), and in so doing, is able to specialize in time-sensitive deals. Nik, the company's stunning spokesperson, is the face of the mobile service, and backing her up is a team comprised of mobile, marketing and telecom executives.
It's no big mystery to consumers. Certain businesses have "product" that expires – such as sporting event and concert tickets, a table at a popular restaurant for Saturday night dinner, a hotel room, etc. When businesses know ahead of time that they have "inventory" that is on the verge of expiring, they are motivated to move it at just about any cost. That's exactly the transaction that Nik O'Time specializes in. Using mobile messaging as a way to instantly communicate with its members, Nik is on the constant lookout for such last minute offers and communicates them to its "fan base" in a matter of seconds.
Email just doesn't cut it any more. It's heard far and wide – consumers are overwhelmed, overloaded and fatigued with email. And certainly as a mode of communication, email doesn't work for last minute offers that have to be reacted to nearly instantly. Conversely, Nik uses mobile messaging which enables the service to specialize in what consumers really-really covet – last minute offers, typically for goods, services and special deals that are very exclusive or only available for a limited time. Moreover, Nik communicates in video (MMS – essentially a text message containing a short video which works on all phones, smart and non-smart), and that means sights, sounds and motion (not just black characters on a white screen).
Nikotime.com thrills consumers with last minute offers, which include sporting and concert/theatre tickets, retail and restaurant promotions, hotels and tourism packages, as well as outdoor activities such as golf tee times and ski resort lift tickets.
"We are all about getting the amazing, last minute deal to see Rihanna in concert TONIGHT. Does it make sense to send something that urgent, that the consumer actually wants, to an email address? No way," explains Kevin Krejca, head of product for Nik O'Time. "This is a win-win for the consumer and the business. The consumer learns about an incredible offer, and the business generates revenue in a scenario where they otherwise would have earned nothing."
Consumers join Nikotime.com by texting NIK to 21534 or by visiting nikotime.com. The messages they receive are treated by carriers as ordinary text messages (only counting towards a consumer's regular text plan).
About Nik O'Time
Nik O'Time provides consumers with last minute, high value offers delivered to their mobile phones. For businesses and advertisers, Nik is a channel to reveal their perishable inventory to an audience of consumers that indicated interest in receiving such deals. Behind Nik O'Time is Nik, a stunning, incredibly well-connected spokesperson that alerts consumers to various deals a few times a week. The company was formed by the same team that introduced Seven Deals | Seven Days a year ago, and is comprised of mobile, marketing and telecomm executives. Text 'NIK' to 21534 to learn more (msg & data rates may apply). For additional information, contact Kevin Kjerca at advertise(at)nikotime(dot)com or by phone at 888-389-2899 X501.
###