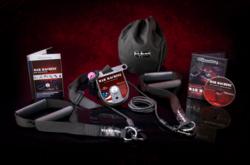 CrossCore, Inc. solves lack of rotation for bodyweight training with invention of suspended pulley.
Duarte, CA (Vocus/PRWEB) March 28, 2011
CrossCore, Inc. solves lack of rotation for bodyweight training with invention of suspended pulley. The War Machine Suspended Pulley Trainer combines bodyweight strap know how with an exclusive Patent Pending pulley system that allows the user to incorporate rotational movement into their training program and also allows other means of resistance to be used such as kettlebells and resistance straps. The War Machine and its new take on bodyweight training via rotational movement is an industry first and is being touted by top athletes and trainers worldwide as the future in bodyweight training equipment.
Bodyweight training straps have taken sports and fitness training by storm for the last couple of years. They have proven to be a very effective training tool. But as effective as they are, there has always been a missing component. What was missing that none of the manufacturers seemed to realize was "rotational movement". The absence of rotation hinders athletic training which in turn directly affects performance. In order to incorporate the Four Pillars of Human Movement by J.C. Santana (locomotion, level change, push/pull and rotation) and mimic the natural mobility of body and sports movements, it takes rotational movement. Period! The War Machine is the fist bodyweight trainer of its kind to incorporate a pulley for rotational movement. The ability to train in static mode when the War Machine pin is engaged and rotational mode when the pin is pulled makes it safe for beginners and a rude awakening for even the most elite athlete. Whatever the sport, whatever the fitness goal, the War Machine's rotational movement connects body and mind for an amazing experience.
"The pulley system on the hybrid equipment (War Machine) also adds the very important component of Dynamic Stabilization. DS is the muscle's ability to hold a body segment or joint in place as well as in its proper plane during an unstable situation (throwing, jumping, landing, acceleration and deceleration). In my 20+yrs as a Physical Therapist, Sports Conditioning Specialist and Certified Senior Strength Trainer, I found that DS is as important if not more than brute strength when it comes to the athlete. The stability of a limb/joint is key to injury prevention but as we all know, most exercise machines work on a single plane (Leg extension, squat racks, bench..etc). Though the machines add a sense of safety to the athlete, it lacks a key ingredient: mimicking the sport of the athlete. The War Machine, I found, can mimic many, if not most, movements when the sport is "broken down" into it's primary components due to its ability to rotate." Pete Navarro – PT, SCS, CSST
CrossCore, Inc. is a manufacture of bodyweight training products and accessories for the modern day sports athlete and fitness enthusiast. Distributed in the US and Internationally.
If you'd like more information about the War Machine® or CrossCore180® by CrossCore, Inc. go to http://www.crosscore-usa.com or contact Jay Wilson at jay(at)crosscore-usa(dot)com
###