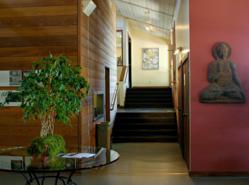 Petaluma, CA (PRWEB) March 30, 2011
The Institute of Noetic Sciences (IONS), today announced the new name for its Petaluma-based retreat and conference center as EarthRise at IONS.
"In renaming the conference center, EarthRise at IONS, we have established a connected and integrated brand that reflects the Institute's consciousness research and educational programs," said Cathy Coleman, executive director of the retreat center at IONS. "By establishing this connection, we reinforce the retreat center's mission as a site for national and international events in areas of science, spirituality, art, social activism, transformation, environmentalism, health and business."
The EarthRise brand and logo gives homage to IONS' founder Edgar Mitchell, and the epiphany of the interconnectedness of the universe that he experienced while returning to Earth from his Apollo 14 moon walk and lunar mission. By incorporating the IONS name, the nonprofit integrates its recognized brand with the diverse functions and events of its retreat center.
Immediate steps to launch the new brand followed the recent move of its research and education offices to the Foundry Wharf business park in downtown Petaluma after 10 years on the current EarthRise at IONS campus. The newly vacant space will allow the retreat center to meet increased demand and accommodate full-service conference facilities while broadening its Conscious Living Workshops program and event offerings.
With the expanded office capacity, increased parking, relaxing reception area, and new multipurpose classroom the retreat center has the ability to accommodate larger groups and better serve their clients and campus tenants, The Chi Center, Meridian University, Veriditas and Lucid Arts. "With the Institute's recent relocation, we determined that it was important to incorporate the IONS name to ensure that our tenants, partners, members, clients and guests recognize that we continue to expand our vision while serving the IONS global community," states Coleman. The new brand will be used in its marketing communications programs.
About IONS
The Institute of Noetic Sciences is a non-profit organization supporting individual and collective transformation through consciousness research, educational outreach, and global learning in the realization of human potential. Its three program areas offer potential for positive change in the world: consciousness and healing, worldview transformation, and extended human capacities. IONS biennial conference will take place in San Francisco, July 20-24, 2011. Funded by members, donors, and grants, IONS also operates EarthRise at IONS, a 120-bed conference center on a 200-acre campus in Petaluma, CA.
# # #