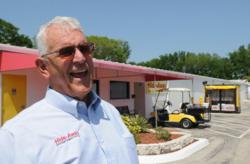 We wanted to help and give back to the community at the same time
Sarasota, FL (Vocus/PRWEB) March 30, 2011
Hide-Away Storage was profiled by the Bradenton Herald last week for giving back to the community. The company offers free or discounted storage to any registered non-profit 501(c)3 organization.
"Churches need an infinite amount of storage space. There are a lot of nonprofits that need storage, too. We wanted to help and give back to the community at the same time," said Steve Wilson, Managing Partner of Hide-Away Storage in Sarasota, FL.
The article cited a number of non-profits that have taken advantage of the offer, like the Alpha Kappa Alpha sorority and the PACE Center for Girls.
"It gives us a central point to store things so we're not keeping things all over the place at everybody's homes," said treasurer Lucette Wombacher, of the Manatee County Audubon Society, another non-profit that has taken advantage of the offer.
Hide-Away Storage operates ten self storage facilities in St. Pete, Ellenton, Bradenton, Sarasota, Fort Myers and Naples and will provide a 40% discount on storage for long-term needs or three months of free storage for short-term needs. The company has also found that many non-profits benefit from the free short-term use of its Mobile Storage containers for garage sales and other fundraising activities.
About Hide-Away Storage
Hide-Away Storage operates 10 traditional self-storage facilities and two Mobile Storage warehouses on the Southwest coast of Florida. The self storage facilities are located in St. Petersburg, Ellenton, Bradenton, Sarasota, Ft. Myers, and Naples, Florida. Hide-Away delivers portable storage units in Pinellas, Manatee, Sarasota, Lee and Collier Counties. The company also provides full-service moving of household goods. Hide-Away has approximately one million square feet of storage space, and is headquartered in Sarasota, Florida. The company was started in 1977 in Bradenton by Steve Wilson, who remains the managing partner.
For more information on Hide-Away's storage services and pricing, visit: http://www.hideawaystorage.com
Contact: Hide-Away Storage
Meisha Wilson
Hide-Away Storage Services
941-755-1166 ext. 1004
# # #