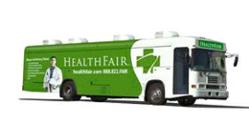 Healthy lifestyle and preventive health assessments can reduce the risk of congestive heart failure
Winter Park FL (Vocus/PRWEB) March 29, 2011
Elizabeth Taylor may be remembered as the movie star who won two Best Actress Oscars. But, her recent death from congestive heart failure at the age of 79, can also serve to remind others of the importance of cardiovascular health.
HealthFair, the nation's leading provider of mobile health screening services suggests that congestive heart failure, a condition where the heart muscle is unable to adequately pump out oxygenated blood to the body, can be avoided with healthy lifestyle choices and preventive health screening.
"A simple HealthFair screening diagnosed my mitral valve prolapse and regurgitation. Within a few months I had surgery to repair the problem. Otherwise I would have had congestive heart failure. The HealthFair screening was worth every penny," said Melody Messer of North Carolina.
"Congestive heart failure is a challenging condition for many senior citizens," said HealthFair Chief Medical Officer, Dr. Robert Oristaglio, D.O. "It is also one of the most common causes of death in the elderly."
Although family history and genetics can play a part, congestive heart failure can be the result of poor lifestyle choices, such as poor diet, lack of exercise and poor diet. The heart, like any other muscle, needs proper exercise. "Many people can avoid congenital heart failure by eating a healthy, balanced diet, getting enough exercise and rest and avoiding smoking and alcohol," said Oristaglio. "Anyone wondering if they're at risk should contact HealthFair at 888-822-3247 to find a mobile health screening event nearby to test their heart health."
About Health Fair
HealthFair, based in Orlando, Florida, has been the national leader in mobile medical screenings for more than 10 years. The company's mission is to save lives by providing quality, affordable, and accessible health screenings and testing to communities throughout the United States. By offering access to non-invasive, advanced imaging technologies at an affordable price, HealthFair empowers people to take control of their cardiovascular, breast, and bone health. Mobile screening clinics are Joint Commission certified for excellence and offer client employees or patients superior privacy, comfort, and convenience via work site or community testing.
###