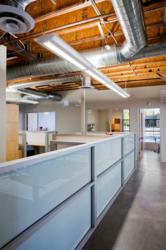 As these units are becoming available, tenants are scooping them up. By allowing tenants to collaborate with us in terms of their design, we have been successful at bringing in really creative thinkers.
Newport Beach, CA (Vocus/PRWEB) March 29, 2011
Established businesses and cutting edge entrepreneurs alike are seizing a rare opportunity to lease unique commercial space in the Newport Beach area. Vacancies at WorkScapes at Newport Beach are filling up fast, a fact attributable to the facility's modern appeal, exposed ceilings, open floor plans, polished concrete floors and stunning golf course views.
"No longer do architectural firms, marketing firms and design firms want to be in a traditional, high-rise office environment," said Michael Schlesinger of Hackman Capital, asset managers for WorkScapes. "They want to be in an open, modern space that lends to a more collaborative working environment. Open space breeds collaboration and allows creative minds to keep the juices flowing."
Located in the heart of Newport Beach, two miles west of UC Irvine, WorkScapes at Newport Beach offers more than 80,000 square feet of space in six unique buildings The park's prime location also provides convenient freeway access, good street visibility and close proximity to John Wayne Airport. A variety of office studios are available in sizes ranging from 983 square feet to 8,184 square feet, but the stylish suites are not expected to be available much longer.
"As these units are becoming available, tenants are scooping them up," Schlesinger said. "By allowing tenants to collaborate with us in terms of their design, we have been successful at bringing in really creative thinkers."
Amongst the businesses making recent moves into the WorkScapes campus are Schiefer Media, Miranda & Associates, Ys & Partners, Spiritus Gallery and LoopNet Inc.
Jerry Rodgers, Vice President of Engineering at LoopNet, Inc., the largest commercial real estate listing service online, said the leafy campus and sophisticated interiors are a breath of fresh air.
"We have been impressed with the unique space at WorkScapes," Rodgers said. "I can honestly say this property is unlike any other in the Newport Beach area. The open floor plan and loft-like layout are naturally conducive to a creative atmosphere. The offices at WorkScapes inspire creativity, a flow of communication between members, and visual appeal, all of which are factors that allow us to more easily attract top talent in the Orange County area."
A huge draw for forward-thinking businesses, the property's proximity to upscale beach-side dining destinations also makes it an ideal spot for top-of-the-line tenants. Simon Dillon, of CB Richard Ellis, said the stacked stone exterior and modern interior of WorkScapes bring a touch of West Los Angeles to the Newport Beach address.
"There's nothing like this in the area," Dillon said. "It is certainly not your typical office building and it has been really well received by people looking for brand new choices in this exciting neighborhood."
Michael Hackman, founder and chief executive officer of Hackman Capital, said WorkScapes offers a glimpse into the business environment of the future.
"We are focused on adding to our portfolio even more spaces like the creative lofts at WorkScapes," Hackman said. "The more innovative and adventurous we become in our lease offerings, the more able we are to meet the needs of tomorrow's business leaders."
***
Learn more about WorkScapes at Newport Beach.
***
Keep up with us on Facebook and Twitter
***
About Hackman Capital
Hackman Capital specializes in the acquisition, management, redevelopment and adaptive re-use of industrial and office real estate. Founded in 1986, Hackman Capital has successfully acquired or developed more than one billion dollars of property on behalf of the company, its affiliates, various investment funds and institutional clients. The company manages all aspects of the real estate process, from acquisition through asset management and disposition. It offers services including property and asset management, construction management, marketing and leasing, finance and administrative functions, legal, compliance and investor relations. Hackman Capital currently manages buildings totaling more than 16 million square feet, including 56 buildings and 750 acres of developable land. The company is based in Los Angeles, California. For more information about the company, please visit http://www.hackmancapital.com.
###