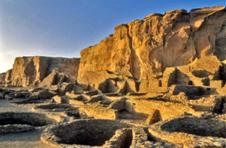 If it's true what D.H.Lawrence wrote about New Mexico, '…it changed me forever,' then it is easy to understand why I see tears in the eyes of our guests when they leave this land. --Patrizia Antonicelli, Seven Directions
Santa Fe, NM (Vocus/PRWEB) March 30, 2011
New Mexico is the fifth largest state in the USA and one of the richest in history and diversified cultures, with a unique life style and distinctive landscape that inspire a special magic. It is also where three out of the country's twenty-one UNESCO World Heritage Sites are located.
For the first time a travel company that specializes in the American Southwest has designed an itinerary that visits all three sites. Seven Directions, a bespoke tour operator based in Santa Fe, will also make stops in O'Keeffe Country, Historic Santa Fe, breathtaking White Sands National Monument, Alien-infested Roswell, and the Billy the Kid outpost of Lincoln.
The highlights include one of the Southwest's most important archaeological sites, Chaco Culture National Historical Park, the longest continually inhabited building in North America at Taos Pueblo, and Carlsbad Caverns, one of the deepest, largest and most ornate caverns ever found on earth.
"If it's true what D.H.Lawrence wrote about New Mexico, '…it changed me forever,' then it is easy to understand why I see tears in the eyes of our guests when they leave this land," says Seven Directions owner Patrizia Antonicelli. "They have taken in what New Mexico teaches to those who listen. One can walk in the footsteps of ancient and mysterious civilizations, learn from Native traditions, and grasp the message coming from millions of years of the geological remodeling of Mother Earth."
Because of the distances covered, the tour can be as long as nine days or tailored to suit the traveler and can be as few as five days. Hotels, meals and on the ground transportation will be arranged per the traveler's specifications and tastes. $795 per person.
In its six years of operation, Seven Directions | Cultural and Sustainable Tours has established itself as one of the finest sustainable tour operators in the Southwest. It facilitates exceptional tours that create a memorable and authentic experience that is both relaxing and profound. Specifically, Seven Directions tours cater to a wide-ranging audience that seeks a hands-on experience that puts them in touch with the landscape and the people. What its clients learn is salient information in the comfort of a tour they can customize. Seven Directions Tours caters to large and small groups, and individuals. It also specializes in Fly & Drive programs that clients can take on by themselves.
For more information please go here or call 877 992 6128
For media inquiries please contact Jennifer Hobson at Jennifer(at)jlhmedia(dot)com
###