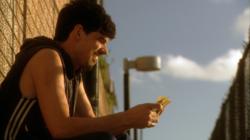 Breathtaking and beautifully shot.
Beverly Hills, CA (PRWEB) March 30, 2011
The incredible and daring new short by Australian film maker Matt Graham will be playing at the 2011 Beverly Hills Film Festival April 8th. After the success of the short comedy "Billy - Palm Springs Int Film Festival 2009", he decided to turn his attention towards the darker side of the human condition. As a result, Rosey and me was born. The film was shot entirely around the famous kings cross area.
The film follows the unconventional relationship of Rosey and Rodney. Rosey, a young conflicted street worker who must decide what is most important in life. Friendship or money. Neither one is free.
Click on link for the trailer.
The central role (Rosey) is played by talented new comer Arianwen Parkes-Lockwood. Arianwen at the time was in talks with HBO's for a role in a new series. In support is Travis Nippard as Jay, her boyfriend and part time pimp.
Shot on two cameras, the Red One and Panasonic HD by acclaimed cinematographer John Biggins (Black Water, Primal).
The film was inspired by real life events. Matt Graham was drawn to the idea that people in desperate times have abandoned principles in the wake of survival. "We don't have to be on top of a mountain sipping our last drop of water. We could simply be on the streets of a modern city wondering where our next meal is coming from. What will we abandon to get it?" - Matt Graham, Director
Matt Graham will be attending the festival throughout the four days and also promoting his next project: "Will the real George Clooney please stand up". The film follows George Clooney (yes, that one) as he attempts to leave Hollywood after a rather unpleasant incident. Once he leaves and tries to begin a new life, he soon discovers someone back in Hollywood that resembles him has taken his place. Taking on his roles, appearing at parties. When George tries to return, he sets in motion a chain of events beyond his imagination. As George gets closer to solving the mystery of who this imposter is, he finds him self confronted with a deeper question. One he may not know the answer to. Just who is the real George Clooney? The film is in the vain of such films as "Being John Malkovich" and "Eternal Sunshine of the Spotless Mind".
Tickets for Rosey and me at the Beverly Hills Film Festival are on sale now.
# # #