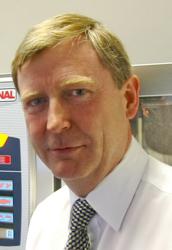 (Vocus/PRWEB) 30 March 2011
FRIMA has appointed Vic Brown as managing director for its UK division. FRIMA is part of the Rational Group and Vic Brown is currently MD of Rational UK. The high-profile move reflects the Group's commitment to expanding operations and sales of the FRIMA VarioCooking Center in the UK and Irish markets. Vic Brown joins FRIMA on May 1st 2011.
Vic Brown brings considerable expertise and a highly successful record to his role at FRIMA. Previously he had senior management posts with several leading brands, including Nilfisk Advance, Carrier and Mitsubishi Electric, and during his seven year tenure as MD of Rational UK annual sales rose by well over 50%.
His main focus at FRIMA will be to grow sales of the VarioCooking Center. "This equipment is a really exciting advance in kitchen technology – as revolutionary in its way as the original combi steamer was," he says. "It's already established in mainland Europe and there is a huge opportunity here in the UK."
The VarioCooking Center is an advanced, multi-tasking system that combines the functions of a bratt pan, kettle, tilting pan, pressure cooker and a deep-fat fryer, all in one unit. It features a sophisticated and easy to use computerised control and monitoring system and can be used for boiling, frying and deep frying. It is also three times as fast as conventional equipment and uses 40% less energy.
"The challenge is to educate the market about the benefits of a new cooking concept: it is futuristic, but the truth is it makes life simpler for chefs and their staff, it saves time, labour and costs and produces better cooking results."
Lee Norton has been appointed as the new MD for Rational UK. He has extensive management experience with major blue chip companies and for the last six years has been sales and marketing director at Karcher UK. "Lee has a first class business mind and is exactly the right person to take Rational UK forward in the next few years," says Vic Brown.
Rational supplies more than 50% of combi steamers in the foodservice market and Lee Norton will have overall responsibility for the brand in the UK and Ireland.
"There are big opportunities to develop new markets for the combi steamer," he says. "There are still sectors where the benefits of the technology have not been fully embraced. For example, in food-to-go sites the SelfCooking Center offers huge advantages in terms of cooking quality and ease of use – often staff are unqualified, yet it allows them to prepare everything from pizza to Beijing duck, at the touch of a button."
For more information on FRIMA UK call 0208 996 5102 or visit http://www.frima-uk.co.uk For more information on Rational freephone 0800 389 2944 or see http://www.rational-UK.com
For more news about FRIMA visit the press office at http://www.publicityworks.biz
Benoît Gourgues, FRIMA International: +41 71 727 90 14
More information on FRIMA International from http://www.frima-uk.co.uk
VarioCooking Center is a registered trademark of FRIMA International
# # #