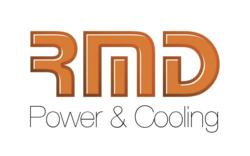 As the cost of power rises and data centres become larger and more dense, data centre managers need to tackle inefficiencies. - John Smykala
Edinburgh, UK (Vocus/PRWEB) 30 March 2011
RMD Power & Cooling has been selected as the first Scottish channel partner for APC by Schneider Electric's InfraStruxure® Management software portfolio. Today's announcement represents a significant development for RMD, which boasts a strong reputation as an independent supplier of power protection and high density cooling systems.
According to John Smykala, Managing Director of RMD Power & Cooling, the decision to diversify into software will enable the Alloa-based company to stay ahead of its competitors by offering end to end management of the data centre physical infrastructure.
John Smykala, MD RMD Power & Cooling, says: "I am delighted that we have been chosen as a channel partner and will be able to bring this pioneering software to our clients. This is next-generation data centre management and it is an important step for us as we continually strive to offer best of breed solutions.
"As the cost of power rises and data centres become larger and more dense, data centre managers need to tackle inefficiencies. InfraStruxure® Management will enable managers to take control of their resources and make significant cost savings by eliminating wastage. Along with energy efficient cooling, this software is part of a significant trend towards greener data centres."
According to data centre analysts, 451 Group, a small-to-average-sized 1MW European data centre that uses management software to reduce energy consumption by 10% could be expected to save around £400,000 over five years. These savings will be amplified when the Government's CRC Energy Efficiency Scheme comes into effect in April 2012.
Paul Tyrer, Regional VP, APC by Schneider Electric, UK and Ireland says, "Since the announcement of the EU Code of Conduct for Data Centres in 2008, we have experienced a growing demand amongst data centre managers and customers for better management software than the makeshift tools being used. When IT inventory was smaller and power and cooling requirements lower, spreadsheets represented a low cost and relatively effective solution. But the complexity of today's facilities allows no margin for error and the need to utilise all resources responsibly requires applications of an altogether higher order."
Data about energy use will help data centres meet internally or externally set targets, track progress against metrics and if it becomes necessary, meet reporting requirements. It is also likely that metered energy consumption data will increasingly be used to price data centre services, to report on or allocate carbon emissions credits, or to facilitate application chargeback.
APC's InfraStruxure® Management Software enables holistic management of the entire data centre ecosystem, integrating the management of the physical infrastructure supporting IT assets with enterprise management systems, building management systems and network management systems. Proactive data centre management is achieved through integrated software applications sharing a centralised repository, enabling design, real-time monitoring, inventory management and planning through predictive simulation.
The APC InfraStruxure® Management Software portfolio helps companies improve energy and cost efficiencies, manage physical capacities and support short- and long-term planning, forecasting, and budgeting. The toolset includes InfraStruxure® Operations which provides an instant overview of data centre operations together with vendor-agnostic inventory management, a PUE calculator for daily information about energy use, real-time device alarms, and a customisable view enabling data halls to be organised by region, country, campus, site, building and room.
# # #