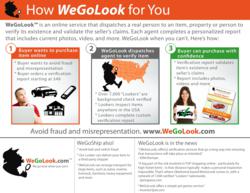 I can honestly say that without WeGoLook, my eBay Motors purchase could have turned out really poorly or not at all.
Nationwide, USA (Vocus/PRWEB) March 31, 2011
Auto consumers of online vehicles are now able to dispatch 7,000 nationwide agents on their behalf to take current photos, video a seller demonstration, verify VIN and more. Purchasing a quality pre-owned vehicle is very convenient on auto auction sites like eBay motors, ola.com, oodle and cars.com. However, there are many risks involved when purchasing sight-unseen from sellers located far away such as vehicle misrepresentation and auto scams and with newly launched WeGoLook it is now affordable. It is up to the buyer to verify the seller's claims before buying.
Onsite auto inspections are now affordable for the consumer who dispatches over 7,000 nationwide WeGoLook agents who verify existence and current condition of the vehicle in person. The agent will locally travel to the item and complete a personalized report which includes current photos, video of a working demonstration, verifies VIN, make/model, odometer reading, note visible damage, arrange transport of the auto and more beginning at only forty-nine dollars.
WeGoLook has made shopping for a vehicle online easier and safe plus buyers can purchase with confidence and peace-of- mind. WeGoLook.com is your eyes on-the-ground and is an easy, cost effective and personal way to verify details of the car you want to buy anywhere in the USA.
"A pre-purchase vehicle verification is a very important step when looking to buy a reliable preowned auto", says Robin Smith, co-founder of WeGoLook.com. "WeGoLook will dispatch a local "Looker" (background check verified) who travels to the vehicle and completes an onsite report which includes current photos, video, observe a working demonstration, arranging transport for you and much more. Think of WeGoLook as your personal auto inspector. Purchasing online items just became safer and easier".
WeGoLook has made it easy for consumers to order a vehicle verification report to check on the condition and existence of any vehicle throughout the USA. WeGoLook service is also extremely cost efficient for auto dealers wishing to conduct an independent singular inspection before purchasing from auto auctions, consumers and other dealers.
Aside from avoiding fraud and misrepresentation, advantages of ordering an inexpensive online auto verification report include convenience, peace-of-mind and trust.
The Looker will meet with the seller wherever the vehicle is located within the USA. Customers receive the completed vehicle verification report online which includes current videos, pictures and verification of make/model, additional details. WeGoLook can also arrange transport and shipping for domestic and international consumers of autos.
Online consumers deserve peace-of-mind when spending thousands of dollars on an unseen item. WeGoLook customers don't become a victim of misrepresentation or fraud and avoid costly surprises.
WeGoLook doesn't buy or sell vehicles which ensures an unbiased, independent and observational verification reports with pictures, video and more. The auto consumer receives information he or she would otherwise not have access to.
Global consumers of autos now have the choice to verify the vehicle and not spend an arm and a leg to do so. Over 7,000 nationwide Lookers are ready to be dispatched to vehicles to complete the onsite vehicle inspection report today.
###