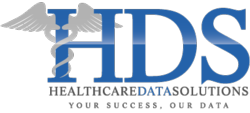 Foothill Ranch, CA (Vocus/PRWEB) March 30, 2011
Healthcare Data Solutions (HDS) has announced that it will be attending several major industry trade shows this spring. HDS recently exhibited at CBI's "iPharmaConnect" forum in Philadelphia, PA. The "iPharmaConnect" forum is the premier conference on strategies for digitally connecting pharmaceutical companies with physicians, patients and payers. HDS showcased their EmailPRO and Webservice products. In addition, HDS exhibited at "The Disclosure Summit" in Washington, DC consulting with pharmaceutical and medical device compliance professionals on tracking aggregate spend.
HDS will also be exhibiting at CBI's "2nd Annual West Coast Forum on Tracking State Laws and Aggregate Spend" April 13-14 in San Diego, CA. This conference covers the timeliest legislative updates and addresses the specific issues companies are facing in the implementation and adaptation of their aggregate spend solutions. Healthcare Data Solutions will be showcasing their SpendTrackPRO Service. This service enables Pharmaceutical, Bio-Tech and Medical Device companies to track aggregate spend more accurately and efficiently using the industry leading HDS PrescriberPRO Database. For more on this product please visit the HDS site.
HDS will also be exhibiting at CBI's "Specialty Sales Models" Forum which is co-located at the San Diego conference on April 13th & 14th.
In addition, HDS will be attending the following shows:

MedTrade Spring in Las Vegas, NV April 13-14
AMGA in Miami, FL April 13-16
CA Dental Association in Anaheim, CA May 12-14
NCPDP in Phoenix, AZ May 15-19
To make an appointment with HDS for any of these shows or for any questions please contact them directly.
About Healthcare Data Solutions
Healthcare Data Solutions is an original source data compilation company focused on building and distributing Physician, Pharmacy, Dentist, Nurse and Hospital databases. HDS provides healthcare data, data processing, web services and new customer acquisition programs for leading healthcare marketing firms. With over 2 million healthcare provider profiles and 1 million healthcare provider emails, HDS is the fastest growing provider of sales and marketing Healthcare Data today. For more information, visit HealthcareDataSolutions.com.
# # #