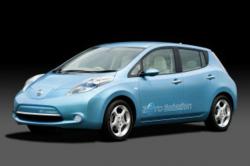 San Antonio, TX (Vocus/PRWEB) March 31, 2011
The 2011 Nissan LEAF is the world's first affordable, zero-emission car to bring in a new era for Nissan and the rest of the auto industry and Ingram Park Nissan is happy to bring it to our customers. Nissan's manifesto is to build vehicles that are more efficient, more beautiful, more inspiring and more human than ever before. The LEAF is their answer to this. With its lithium-ion battery-powered chassis, the LEAF is a hatchback that can seat up to five people with a range of up to 100 miles without using a drop of gasoline.
48 laminated compact lithium-ion battery modules and a high-response 80kW AC synchronous motor power the Nissan LEAF. It can generate 107 horsepower and 207 ft-lb of torque, which provides a smooth ride for all to enjoy. Nissan is one of the first manufacturers to come to market with an all-electric vehicle but does not sacrifice the performance one would find in a similarly sized gasoline-vehicle.
The LEAF's powertrain is unique in that it does not have a tailpipe and thus emits neither CO2 nor other greenhouse gases while being driven. The lithium-ion battery equipped in the LEAF can be charged up to 80% as quick as 30 minutes when equipped with a quick charge port and using a DC fast charger. If charging the Leaf at home through a 220V outlet, then it is estimated to take up to eight hours to get up to a full charge. The battery pack carries an industry-competitive warranty of 8 years or 100,000 miles.
"There's little debate on the need to reduce vehicle emissions in the future. Nissan is taking an aggressive approach to establishing leadership in zero-emission vehicles, with the LEAF being our first effort," said Al Castignetti, vice president and general manager, Nissan Division, Nissan North America, Inc. "However, we're not doing this solely to meet regulations or to wrap the Nissan brand in a green halo. We're producing the Nissan LEAF because it makes good sense to Nissan and to our customers."
The 2011 Nissan Leaf is already available in several United States' Markets and will soon be released in the remaining areas around the United States. The Nissan LEAF is the first of four 100% electric vehicles Nissan has announced, and the premier San Antonio Nissan dealership – Ingram Park Nissan – will stock Nissan's newest models as they become available.
###