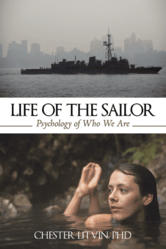 [The desire for dialog] is as strong as the sexual drive
North Hollywood, CA (Vocus/PRWEB) March 29, 2011
Have you ever wondered why your mind works the way it does? In Life of the Sailor: Psychology of Who We Are, clinical psychologist Chester Litvin, Ph.D., uses the character of a sailor—a "Magellan of the mind"—to guide readers on an existentialist journey through our psyche and personal identity.
An enlightening foray into the mysteries of the mind and our complex psychological makeup, Life of the Sailor examines all aspects of subconscious motivations, dialogs, internal splits and self-identity. Throughout, the mind traveler character visits real-life scenarios and historic events that illustrate a voyage from a fragmented to a unified or collective self.
"Our identity depends on two major processes in our psyche—unification and splitting," says Litvin. "By unifying fragments we get a whole identity and whole self, but with split fragments we have a fragmented identity and split self."
Like the hero of his book, Litvin is a Russian immigrant who understands the mental fragmentation that can occur among those who leave one collective to "sail" to another. "Immigrants as sailors are the best subjects to view splits and unifications," says Litvin.
Litvin was inspired to write the book after studying Martin Buber's works, and observing that the desire to meet and have dialogs is a domineering desire. "It's as strong as the sexual drive," Litvin explains. "The drive for dialog starts mentally, but brings physical pleasure."
As readers sail to new psychological shores in Life of the Sailor, Dr. Litvin explains:

"Sailor's psychology"
The difference between a fragmented or split self, versus a unified or collective self
The radical and utopian collective
How to analyze inner dialog and dialog with others
About the Author:
Chester Litvin, Ph.D. is a clinical psychologist, licensed MFT, and school psychologist who specializes in brain stimulation, child psychology, the elderly and mental illnesses. Litvin emigrated from Russia, where he received his master's degree and worked as a teacher. He worked as a computer scientist on contract with the U.S. Navy, and then completed his master's degree and Ph.D. in the U.S. Litvin is a member of the California Psychological Association and California Association for Marriage and Family Therapists.
# # #