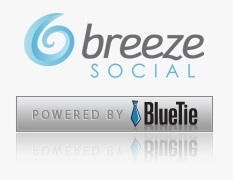 "By simplifying the process of getting connected and posting to these networks, and providing measurable results for their efforts, we're enabling SMBs to establish a meaningful presence on the social web" - Jeremy Hunter
Rochester, NY (Vocus/PRWEB) March 31, 2011
Social media marketing now has a management tool designed specifically for small and midsized businesses (SMBs) that helps them engage, interact and measure success on the social web. Breeze Social connects businesses to the most powerful social networks and helps them contribute by collecting and organizing all social media conversations important to their business and formatting their carefully crafted messages to post to Facebook, Twitter and Tumblr regardless of character length or content. Breeze Social will provide users with posting suggestions based on their company profile, specified industry, named competitors and locale to help them become relevant and active in social media. Consistent social media activity is becoming a necessity for SMBs when considering that 96% of 18-35 year-olds are active on at least one social network and 78% of consumers trust what their peers say over traditional advertising1. Breeze Social is powered by BlueTie, Inc., a 12 year veteran in the SaaS business applications space, and is white-labeled for sales to SMBs through the service provider and reseller partner channels.
"We surveyed the social media management marketplace and found two striking deficiencies when thinking about SMBs," remarked Jeremy Hunter, President of Breeze Social's parent company BlueTie, Inc. "Some existing applications were built for enterprises making them expensive, cumbersome, and very difficult to navigate. The rest were built for consumers and were lacking functionality and the ability for a business to measure success. There was no real solution available to SMBs. We wanted to offer our customers a social media management tool that not only got them connected to the social web but simplified the process of contributing meaningful content regardless of the social network all while helping them understand their progress."
Breeze Social is the first social media marketing tool built specifically for SMBs. In just ten minutes a day, users can manage all of their social media activity on all networks from one intuitive interface with message length and formatting for each network taking place in the background. Users craft their message and Breeze Social formats this message for each social network.
Breeze Social also provides users with a Social Score based on their activity, the activity around them, as well as scope of their business and industry. The patent pending score offers users insight into their social media success and helps them track their progress relative to their industry.
"We're committed to showing our customers the value in social media activity to encourage their sustained social media efforts," said Hunter. "By simplifying the process of getting connected and posting to these networks, and providing measurable results for their efforts, we're enabling SMBs to establish a meaningful presence on the social web."
About Breeze Social
Breeze Social helps businesses (SMBs) quickly engage, interact and influence the social web while providing measurable results that confirm return on their social media investment. With Breeze Social, SMB's have the ability to post to leading social media networks, see what's being said to and about them, engage their customers, and measure their impact all from one, intuitive interface and in less than ten minutes a day. Powered by BlueTie, a 12 year veteran in the hosted applications for SMBs space, Breeze Social leverages BlueTie's industry leadership in scalable business applications to deliver a reliable value-adding solution. http://www.breezesocial.com
# # #