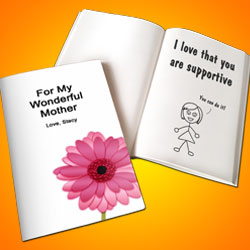 "Mom's are sentimental and LoveBooks can be personalized so you can be very specific on the reasons why she means so much to you. It's an instant tear-jerker."
(Vocus/PRWEB) March 30, 2011
With Mother's Day right around the corner, many people are looking for a gift that is going to put a smile on mom's face. LoveBookOnline.com has made it easy to give her one of the most personalized and unique gifts ever.
"We love the idea of getting mom a gift that is personal," said Chris Sonjeow, Co-Founder of LoveBookOnline.com. "Mom's are sentimental and LoveBooks can be personalized so you can be very specific on the reasons why she means so much to you. It's an instant tear-jerker."
LoveBookOnline.com allows users to quickly sign up and publish their own personalized book that allows people to communicate why they love each other. Each page lists a single reason and is accompanied by a small stick figure drawing illustrating the reason.
"We give the user the option to select from a series of user-generated pages or they can edit their own pages from scratch. No two books are alike – ever."
The new Mother's Day artwork is now available for use on the LoveBookOnline.com website. Covers are available in hard and soft.
Founded in November 2007, the mission of LoveBook, LLC is to give people a way to easily express our most powerful human emotion: Love. LoveBookOnline.com is a web application that allows users to create, edit, and publish the specialized gift called LoveBooks. LoveBook, LLC is a privately held company and is headquartered in Royal Oak, Michigan.
# # #