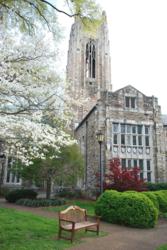 Nashville, TN (PRWEB) March 31, 2011
Sixteen- and 17-year-old high school students will immerse themselves in experiential management during an intensive summer conference, Managing Ourselves, July 17-23, 2011 at the Scarritt-Bennett Center in Nashville, TN.
Organized by experiential learning expert Dr. John Miller, the residential camp will provide students hands-on practice in developing and managing a working organization and insights into the primary drivers of organizational performance. The competitive admission program will provide opportunities for youth to challenge their teamwork and leadership skills, strengthen their understanding of how successful organizations work and learn about academic and career paths that match their talents.
The conference will pack an intense 70 hours of programming into a single week as students seek to understand and to propose creative solutions to some of their world's most pressing management challenges.
Students will:
-- Learn the three things all leaders must manage to be successful
-- Design missions, teams and roles
-- Manage time, people, budgets and information
-- Debate and decide "What's worth doing?" and "How do we start?"
-- Write and speak ideas effectively to persuade others to action
-- Manage themselves in complex situations
Guest speakers will include Jeffrey R. Cornwall, DBA, Jack C. Massey Chair in Entrepreneurship and Director of the Center for Entrepreneurship at Belmont University, named a Top 5 undergraduate entrepreneurship destination by Fortune.
Conference admissions will be competitive and on a first-come, first-served basis. Round One admissions will close April 22, 2011.
After the Conference: A Collaborative Learning and Networking Community
Conference attendees will enjoy an exclusive opportunity to participate, free of charge, in an online community of business leaders who studied with Dr. Miller during his 30 year academic career as well as students who participate in future Managing Ourselves conferences. The community will provide an exceptional place of informal learning as students and alums share case studies, ask and answer questions and meet for an occasional networking event in select major cities.
Visit http://www.ManagingOurselves.com for more information.
About John Miller, Ph.D.
Dr. Miller, now Professor Emeritus at Bucknell University, was Christian R. Lindback Professor of Management until his retirement in 2005. He was visiting professor at École Supérieure de Commerce du Centre in Tours, France and at Doshisha University in Kyoto, Japan; and Director of Admissions and Student Affairs at Yale University.
Miller holds an A. B. in Economics (with honors) from Stanford University, a Diploma--Certificate in German Studies from the University of Munich, an MBA from INSEAD (European Institute of Business Administration; Fontainebleau, France) and a Ph.D. in Management from the University of Rochester.
Miller's experiential learning model is in use at dozens of institutions of higher education. These include the Wharton School of the University of Pennsylvania, Babson College, the University of Oklahoma and Bucknell University, in the wildly popular experiential management class that Miller started some 30 years ago.
Miller formed TernionM LLC in 2010 with partners David Ledgerwood and Betsy Jones to offer his management concepts to a broader audience. Visit http://www.TernionM.com for more information.
# # #