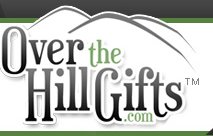 Auburn, NY (Vocus/PRWEB) March 30, 2011
In the milestone birthday collection, OvertheHillGifts.com added a new 40th birthday gift basket. These 40th birthday gift baskets take key nostalgia gifts from the current birth year and offers the birthday recipient a look at what happened the year they were born. These 40th birthday gift baskets include a set of Lucite coasters that contain actual postal stamps from the year they were born. In addition, the gift basket includes a laser engraved frame for the year, a candy sampler of 1970s candies, a year greeting card that contains trivia, a deck of cards that can be used to play cards but also contains trivia, a video DVD from the year and a music CD of songs from the year. All of these gifts come packaged together in an ivory gift basket and shrinkwrapped for the customer's convenience. The store has added approximately ten new 40th birthday gifts to the collection.
In the 50th birthday gifts section of the website, OvertheHillGifts.com has several 50th birthday gift baskets for customers to select from. The most popular 50th birthday gift basket contains a circulated coin set from the year the birthday person was born. The coins come in an attractive blue cushioned case for display. In addition to the coins, the gift basket has some 60s candies, a 30 minute DVD that plays news from the year, songs, and mentions other facts, a top 20 hits song CD that has the original top 20 songs from the year, and a laser engraved a "Very Good Year" picture frame.
Coming within the next month, there will also be a 50th birthday gift basket that has the set of acrylic coasters containing postage stamps, similar to the 40th birthday gift basket instead of the coins set. This basket is offered at a lesser price to give consumers choices about what they want to spend on a gift.
Also in this section of the web site are additional 50th birthday gift baskets- one geared toward men, and one geared toward women. Each contains specialty items for their specific sex, e.g. a grownups baby book of funny sayings about getting older for the women, and a tired old ass sampler pack of old time salves, creams and bath soak for old men that is both funny and useful. These gift baskets are more intended to be geared toward recipients with a sense of humor, since they contain of variety of gifts poking fun at getting older.
For additional milestone gifts, OvertheHillGifts.com and its sister site, BirthdayandAnniversaryGifts.com, added an enhanced birthday newspaper gift to their sites. Customers, for an additional $5.00 charge, can add a short personalized message to the bottom of the framed birthday newspapers. For example, many customers choose to add text like "Extra, Extra, John Smith was born today," or "Love from all your family." The fake newspaper also shows the top headline from the month they were born, the celebrities that also share a birthday that month, a few prices like bread and houses, sports teams that were popular for the year, and some other notable news events. The most entertaining part of the newspaper is that the software has the president of that year trumpeting the arrival of the person's birth, which makes the fake newspaper look more official. For those customers that want to save money, they can also order the birthday newspapers without any personalization on the bottom. For customers that would like to purchase a deluxe birthday newspaper there is also the option of buying it with the voice recorder attached to the back of the frame. The voice recorder lets the customers add a ten second recorded message in their own voice as a greeting for the person with the birthday. One of the most common uses for this version is to have everyone at the party gather around and sing a shortened version of the happy birthday song, or "we love you Bob". If the recording isn't to the customers liking, they can re-record easily over the previous message with the touch of a button. This can also make the birthday newspaper into a gag birthday gift for added value.
In the 60th birthday gifts section, OvertheHillGifts.com has four different 60th birthday gift baskets. One 60th birthday gift basket contains the popular coin set for that year, one contains a laser engraved photo album to hold the 60th birthday party pictures in a handy format. In addition, the store also has a 60th birthday gift basket for women with more gender specific 60th birthday gifts, and a 60th birthday gift basket for men, which has a baseball 60th birthday hat, and other funny 60th birthday gifts for men. The store has added some new 60th birthday gag gifts for both women and men, due to customer request. "Many of the customers requested that we add some lower priced gag gifts to our store," said Lisa Klima, owner, "so, we have always followed our customers' leads to meet their needs." One of the newer gift ideas is a 60th birthday photo album which is a mini sized 60th birthday photo album available for only $7.95. There is also a new gag compact for women that sounds off a wolf call when the woman opens it.
In the 70th birthday gifts section, a new 70th birthday gift basket has also been released with a circulated half dollar coin in it from the year as well as other year related gifts.
OvertheHillGifts.com has also expanded its consumer testing with its customers and received suggestions for ten new types of products. In the coming months a greater number of birthday gifts will be becoming available on the site, from a greater number of over the hill gag gifts, to milestone party supplies and personalized birthday gifts. By sampling their customer base, and asking for product suggestions, it has inspired the company to meet one on one with vendors to create new products. Products that are not available through vendors will be made by OvertheHillGifts.com on their own, in the form of custom products.
OvertheHillGifts.com is a leader and expert in the area of over the hill gifts as well as personalized birthday gifts, gifts baskets and milestone birthday gifts. Their suite of gift web sites has been selling online since 1998, and is one of the early birthday gift pioneers on the web.
###