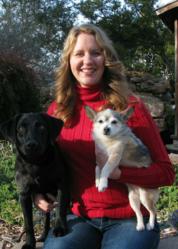 Memorials offer a way to individually express the loving bond between the client and their pet
(Vocus/PRWEB) March 29, 2011
Dr. Rebecca Westrbook announced the unique Memorials for Pets service that allows grieving pet owners to hold memorials. Dr. Westbrook is the owner of a mobile veterinarian service where she provides caring hospice and in home euthanasia service in northern Dallas, Texas.
A veterinarian dedicated to providing compassionate service to pets and their owners, Westbrook understands that pets are often considered to be members of the family. Dr. Rebecca Westbrook believes that pets are deserving of the same attention both in life and in death.
So when an owner and their family have to make the difficult decision of euthanasia or have the sudden loss of a pet, it is important that they have a chance to go through the grieving process. Many people have difficulty with the loss. One way of helping her clients deal with their loss is to share recommendations and memorials for pets.
Often when pets die, it is simply dismissed as a natural part of life and owners are told to get another pet to replace the one that just passed on. Westbrook realizes that this is not always the complete answer. With her altruistic nature, Westbrook offers another option and gives recommendations on memorials for pets.
In an interview, Westbrook states "Memorials offer a way to individually express the loving bond between the client and their pet".
Westbrook has put together a collection of memorial advice from loving pet owners.

Tie and save a lock of fur
Take a paw print
Plant flowers or bulbs that will bloom annually
Make a shadow box with toys and collar
Contribute to an appropriate animal cause
Share your precious stories or make a photo story album
Along with her in home hospice care and euthanasia, Dr. Westbrook also provides memorials for pets as one of her services. "Loving Paws" offers a grief packet, a memorial clay paw print, clippings of hair, and after care transportation and cremation options. Pet owners who want an understanding and compassionate veterinarian to guide them through their grieving process should contact Dr. Rebecca Westbrook.
To set an appointment with Dr. Westbrook, visit her website today at http://www.lovingpawshousecalls.com.
For compassionate pet owners who want to understand the process of hospice and euthanasia veterinarian services contact Dr. Rebecca Westbrook at http://www.lovingpawshousecalls.com
For media inquiries: Dr. Rebecca Westbrook is available for expert quotes and interviews.
Email:
Contact Publicist Tatyana Gann at smokinhotpr(at)gmail(dot)com phone: 615.354.7265
###