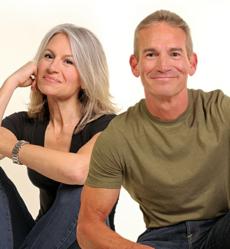 Finally you can toss the exercise DVDs, failed diet programs, useless equipment and take control of your body! TurboCharged is what we've all been waiting for: a simple approach to better living and a powerful new lifestyle
New York, NY (Vocus/PRWEB) March 30, 2011
TurboCharged, a new book by brother and sister co-authors Dian Griesel, Ph.D. and Tom Griesel, outlines a revolutionary 8-step rapid fat-loss program requiring no aerobic exercise, supplements or special equipment. The book, now on sale on Amazon, features a Foreword by Hamptons Diet author Fred Pescatore, MD.
After spending 30 years working with scientific researchers while continuously experimenting with various diets, the Griesels explain why all other diet and exercise advice to date is inherently designed to contribute to the growing epidemic of chronic obesity. With TurboCharged, they introduce entirely groundbreaking concepts that defy common weight-loss thinking and share eight simple steps that successfully deliver body-defining rapid fat loss in record time, along with greater health and improved odds of longevity.
The book's promise is that regardless of your age, current percentage of body fat, or scale weight, you can achieve a lean, awe-inspiring body by becoming "TurboCharged™." Several testimonials within its pages detail the routes taken by others on their trip to the ultimate destination of "Leandom."
Readers will learn:

Why conventional diet and exercise advice makes and keeps us fat.
How to train the body to use excess body fat as fuel for energy needs.
A five-minutes-a-day technique that will maintain or increase lean muscle mass while increasing metabolism.
The ideal foods and meals that will cut body fat quickly.
How to healthfully simulate the desirable effects of gastric banding surgery.
Why the best of diet intentions fail in the late afternoon and evening and how to stop food cravings and moodiness while meeting life's challenges with a greater sense of well-being.
That metabolic age can be reduced…and TurboChargers can prove it.
That having a lean, healthier body for life is actually remarkably easy.
"We live in a society where we are quite literally eating ourselves to death," writes Dr. Pescatore in the Foreword. "Everyone says they want to 'lose weight,' but what we really need is to lose fat. TurboCharged puts the emphasis on body-fat percentage—a true indicator of your state of health and risk for certain food-related diseases, such as heart disease and stroke. The authors' concept of the land of Leandom and the highway traveling there is a fantastic way to present what every one of us ultimately wants: to be lean and healthy."
Former CEO of the United States Olympic Committee and retired Brigadier General, Dr.
Harvey Schiller USAF, commented: "Finally you can toss the exercise DVDs, failed diet programs, useless equipment and take control of your body! TurboCharged is what we've all been waiting for: a simple approach to better living and a powerful new lifestyle."
Srini Pillay, MD, Harvard psychiatrist and bestselling author of Life Unlocked, said: "I can't imagine a better way for dieters to develop a healthier relationship with food, 'TurboCharge' their body fat loss, rev-up their energy, and stay remarkably youthful. From both a psychological and medical perspective, this one's the Holy Grail."
To purchase a copy of TurboCharged, please visit:
http://www.amazon.com/dp/1936705001
For more information about the book and authors Dian and Tom Griesel, please visit:
http://www.turbocharged.us.com
###