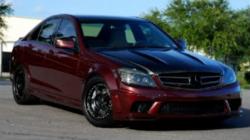 The best part about this car is that within 6-8 hours we can have it completely streetable, turn on the stereo and A/C, and take the wife to dinner.
Columbus, OH (Vocus/PRWEB) March 30, 2011
Keith Brantley's 2009 C63 AMG has affectionately been dubbed the "Red Brown Arrow" by none other than AMG, Mercedes Benz own in-house tuning division. As anyone even vaguely familiar with the marque will attest that is not something to be taken lightly, then again not much is in Affalterbach, Germany.
A huge compliment indeed as in the world of Mercedes Benz, the "Silver Arrow" or "Arrow" designations have traditionally only been attached to MB's dedicated and purpose built Formula 1 and Le Mans race cars dating back to 1954; those that tackled the likes of world renowned tracks such as Spa, Nurburgring, Le Mans, Silverstone, etc. The nickname bestowed upon Keith's C63 is derived not only from its ultra rare Barolo Red paint but also because of its awe inspiring and often outright shocking on-track performances, much like the originals. After all, we're talking about a sedan that's beaten the mighty Corvette ZR-1 and a Porsche Carrera GT at the Top Gun Run standing mile event, trapping 180.73 naturally aspirated in the process.
On March 25th 2011 at M.I.R. in Mechanicsville, MD, with the help of driver Ben Scott and after running over a dozen 10 second naturally aspirated ¼ mile passes with a N/A best of 10.91@129.5mph, Keith's MHP Stage 3 C63 once again raised the bar--only this time it was to the highest level the world has ever seen. On a 125HP shot of nitrous the Red Brown Arrow ran an all-time Mercedes Benz best of 10.41@135.27mph in the ¼ mile, with an 1/8th mile split of 6.77@105.56mph. On the same pass 0-60mph was achieved in a mere 3.04 seconds, 0-100mph was dispatched in 6.19 seconds and was accompanied by a 60-130mph time of 6.59 seconds—by comparison the mega dollar Lamborghini Murcielago LP640 needs a tortoise like 7.8 seconds to accomplish the same 60-130mph blast. Red Brown Arrow indeed.
Video of the Overall Mercedes Benz World Record ¼ Mile Pass on 125 shot, 10.41@135.27mph: CLICK HERE
Dragtimes Entry: CLICK HERE
75 shot video, 10.61@133.46mph: CLICK HERE
A few of Keith's Best N/A Passes to date, 10.91@127.68mph: CLICK HERE
Backed with a 10.97@129.45mph: CLICK HERE
Despite its straight line prowess Keith's C63 is far from a one trick pony, it's not only drag raced but frequents at least a half dozen open track events per year, among those are Sebring International Raceway, Homestead Raceway, Roebling Road, and Road Atlanta. At said events the car is relentlessly flogged, lap after lap of pure abuse with speeds cresting 150mph, down and back again. When asked his thoughts on his cars recent accomplishments Keith stated "All the time and effort we have all put into this car has paid off. It's simply the most versatile car I have ever owned". Keith's next goal is: "Complete the package with some cams, better tires & wheels, and slightly larger nitrous jets and we can hopefully set the bar a little higher next time out". Keith wishes to thank "Andy at MHP, Larry at Macedo Motorsports, Jerry at Jerry's MB Service, Ben Scott, and his family and friends for all their support and assistance building this car". Keith went on to state "The best part about this car is that within 6-8 hours we can have it completely streetable, turn on the stereo and A/C, and take the wife to dinner." Ben Scott, a friend and fellow racer was at the wheel during the record pass and had this to say about his performance and the car overall: "The car performed flawlessly and is remarkably easy to drive. After the launch it's actually very uneventful completing the ¼ mile".
The transformation from luxury sport sedan to supercar slayer was a progression that began nearly two years ago with a brief email to MHP or Modern Horsepower in Columbus, OH, a recognized leader in Mercedes Benz/AMG and European performance tuning. What started out as a simple header and tune order evolved into the world's quickest and fastest Mercedes Benz with little time wasted in the process despite blazing a trail never before travelled. Keith's C63 sports MHP's Stage 3CMR Package, as seen on http://www.ModernHorsePower.com, consisting of MHP v4 CDT (ECU/TCU Tuning), MHP 1 7/8" S.S. Longtube Headers and 3" Mids, MHP 3" S.S. Race Catback with X-pipe, MHP Race Ported Cylinder Heads, MHP Thermostat, MHP Custom Nitrous Kit, HRE Drag Wheels and Drag Radials, Carbon Fiber Roof, Carbon Fiber Trunk, a Dad's Performance LLC Carbon Fiber Hood, and Lightweight Brake Rotors. Keith's MHP C63 currently generates 652HP and 595lb/ft of torque at the crankshaft naturally aspirated, equating to gains of 201HP and 152lb/ft over stock. Factor in the nitrous oxide system which can supply enough cool dense oxygen to allow for up to 900HP with a dedicated MHP nitrous tune and custom fuel system as installed in the Red Brown Arrow and let the Blitzkrieg begin.
MHP's Project SL65 made another 1050 mile round trip (driven back and forth, it's no trailer queen) showing to break its own Tune Only 65 AMG World Record by running 11.01@127.40mph at the same M.I.R. race. Backed with 13 passes in the 11.0-11.1@127-128.9 range, and still with just MHP v3 CDT Tuning and Drop-in Air Filters (704HP/989lb/ft of Torque SAE.)
Dragtimes.com Entry with Video: CLICK HERE
Backed by over ten passes in the 11.0@127-128mph range including this 11.02@128.38 pass: CLICK HERE
We caught up with MHP President Andrew Cluck after the race and asked for his thoughts on the days unprecedented achievements; Mr. Cluck commented "I could not be happier for Keith and Ben. They had the dedication, perseverance, and fortitude to put it all on the line; this could not have happened to two more well deserving individuals. I am truly blessed to have such amazing and passionate customers, without all their hard work none of this would be possible." He then went on to say "We are truly honored to have made our mark in the World of Mercedes Benz/AMG racing. Given Mercedes Benz & AMG's longstanding tradition of greatness in motorsports this is something we take a large amount of pride in." When asked about the SL65s record breaking performance Mr. Cluck responded by stating "Although our goal was to run 10s in the ¼ mile with just MHP v3 CDT Tuning and Drag Radials, I feel we've come close enough and will now begin phase 2 and 3 of the planned modifications, including intake and exhaust upgrades for the already potent twin turbo 6.0L V12."
You can see more of Keith's videos as well as those of other customers on MHP's YouTube Channel "ModernHorsepowerLLC", and can also follow their achievements on Facebook by searching for "Modern Horsepower." MHP can be contacted directly via their website http://www.modernhorsepower.com or by emailing sales(at)modernhorsepower(dot)com. Additional information on product offerings and further discussion about the cars and records can be found on the popular Mercedes Benz website http://www.BenzBoost.com.
This press release was compiled and distributed through Localize It, an online internet Press Release, Local Search, and Internet Media coverage center.
# # #