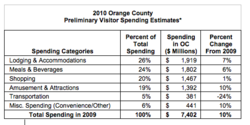 Anaheim, California (Vocus/PRWEB) March 31, 2011
The Anaheim/Orange County Visitor & Convention Bureau and CIC Research reported that Orange County attracted 42.7 million visitors in 2010. This reflected a slight increase from 2009's visitor final figures of 42.6 million.
Visitor spending in 2010 was up 4.1% for a total of $7.4 billion, compared to about $7.1 billion in 2009.
Projections from Skip Hull with CIC Research indicated, "2010 reported moderate, but welcome growth in the OC tourism industry. The current recovery began in the fourth quarter of 2009. Overall, 2010 continued that slow recovery and visitor volume was a bit flat. However, OC visitor spending increased 4% in 2010 to almost $7.4 billion. We are hopeful that 2011's numbers will gain momentum, even with the challenge of rising fuel prices."
Charles Ahlers, President of the Anaheim/ Orange County Visitor & Convention Bureau stated, "Anaheim and Orange County continue to be a significant west coast meeting and vacation destination. Millions of people come here to experience our myriad of entertainment offerings from shopping, dining to sporting events. As we continue to evolve, as this is our organizations 50th Anniversary promoting Anaheim/ Orange County, and the destination provides new opportunities for visitors to experience, we will continue to be a sought after location."
Orange County is located in the center of the populous Southern California region, and continues to attract more than 60% of its overnight leisure visitors from the western portion of the United States. International visitors make up approximately 8% of all visitors to OC and almost 13% of overnight visitors to the county. Traditionally, international travelers stay in the region much longer and spend more money during their stay.
Anaheim gets a major portion of Orange County's visitors, as it is the home of the Disneyland Resort, the Anaheim Convention Center and major sports teams. The Anaheim only visitor figures indicate that there were 15.9 million visitors to Anaheim during 2010 and they spent just under $4.2 billon dollars. Indicating 2.5% fewer visitors from 2009, but 4% more spending than last year.
See image table for 2010 Orange County Preliminary Visitor Spending Estimates.
Visitors primary area of residence
(All visitors to OC)
60% Southern California
14% Rest of Western U.S.
8% Northern California
8% International Visitors
4% Southern U.S.
4% Midwestern U.S.
2% Northeastern U.S.
100% Total
Source: CIC Research, Inc., Preliminary 2010 Orange County Visitor Survey, March 2011.
About Anaheim/Orange County Visitor & Convention Bureau
The Anaheim/Orange County Visitor & Convention Bureau (AOCVCB) is celebrating its 50th Anniversary year as Anaheim and Orange County's largest destination marketing organization. It is a non-profit marketing organization dedicated to promoting Anaheim/Orange County as a premier leisure, convention and meeting destination. For more information, call 714/765-8888 or visit anaheimoc.org. Follow us on Facebook (AnaheimOC) or on Twitter (Anaheim_OC).
###