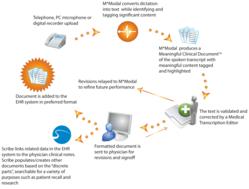 "Speech recognition has enabled us to improve on our turn-around time and allowed our medical transcriptionists to increase their output"
Lake Forest, IL (Vocus/PRWEB) March 31, 2011
Scribe Healthcare Technologies, Inc., trumpets its success utilizing Scribe's unique implementation of M*Modal Speech Understanding engine on the Scribe medical documentation platform. Unlike other platforms offering the M*Modal solution, Scribe redesigned its platform to fully integrate all aspects of the M*Modal technology while creating complementary tools that result in the first fully SaaS offering targeted at both In-Patient and Ambulatory markets.
According to John Weiss, Vice President of Scribe Healthcare Technologies, "Most voice recognition offers target the In-Patient or medical staff that are content with using front-end software for speech. This strategy leaves out the higher volume dictating specialties such as orthopaedics and other surgical specialties. Other voice recognition solutions fail to realize that these specialties require special accommodation for format and workflow. The Scribe platform delivers tools and functionality to make it easier to manage templates, macros, and document models."
Scribe ensures success by making the process fully accountable and using the data to improve transcriptionist productivity. "It's natural for anyone to feel apprehension when learning a new way to work," says Jen Mironas, Scribe Account Manager. "Given the changes taking place in healthcare, many of our customers are converting to speech enabled documentation. The key to success is to fully commit to the process. When a transcriptionist immerses herself in speech editing, productivity improvements always result. If a transcriptionist only spends 20% of their time with speech, productivity has little chance to benefit."
"Speech recognition through Scribe has greatly contributed to the quality of our dictated reports. We transcribe for many English Second Language dictators and have found that speech recognition especially used in these instances have provided us with a report that our MTs and editors can then take on to a quality completed product with much less time and frustration. Speech recognition has enabled us to improve on our turn-around time and allowed our medical transcriptionists to increase their output, which has aided us in bringing down our bottom line and increasing our profit," says Catherine Bishoff, President of Maryland Transcription Service.
As organizations look to technology to reduce documentation costs, it is also important to keep an eye on extracting greater value from the transcribed data. The Scribe implementation of M*Modal offers cost reduction and document formatting in an HL7 Clinical Documentation Architecture. This dual benefit ensures compatibility with the EMR/EHR.
About Scribe Healthcare Technologies, Inc.
Scribe Healthcare Technologies is a privately-held healthcare technology company based in the Chicago area. The company has developed a proprietary web-native platform that offers medical documentation solutions that deliver physician narrated content to the electronic medical record. Scribe's platform includes complete solutions for dictation, transcription, voice recognition, document management, EMR-Lite, healthcare information exchange, and reporting with data analytics. Scribe offerings include both computer and mobile solutions.
Scribe serves more than 25,000 users. Business partners and resellers include consulting firms, transcription companies, and business process outsourcers. Additional information is available at http://www.scribe.com.
About Maryland Transcription Service
Maryland Transcription Service (MTS) is a woman owned small business, MBE based in Maryland, specializing in a wide variety of medical specialties. We also offer transcription services for the legal and business industries. We are a proud GSA Advantage Schedule holder. Additional information regarding MTS is located at http://www.mts4transcription.com.
###