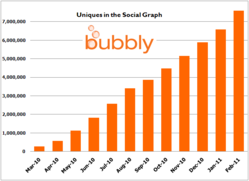 Singapore, Palo Alto, CA (Vocus/PRWEB) March 30, 2011
Bubble Motion today announced that it has raised $10 million (USD) in growth capital to accelerate the roll-out of its voice-based social communications service that has attracted millions of consumers across Asia. Led by SingTel Innov8, the SingTel Group's corporate venture capital fund, this round also includes Singapore's Infocomm Investments in addition to insiders Sequoia Capital, Palomar Ventures, and NGC.
This is Bubble Motion's second round of financing since its strategic shift into becoming a social messaging company in 2009. Since Bubble Motion launched Bubbly™, its flagship voice-based social messaging service, just one year ago, it has gained over 7 million users across 4 countries (India, Indonesia, Japan and Philippines) and has delivered more than 250 million bubble messages through its service.
This strategic round of financing will be used by Bubble Motion to accelerate growth of its service into new countries, while scaling its technology platform which has become the standard voice-based mobile social networking solution for mobile operators across Asia. The company's flagship service Bubbly will expand to additional mobile platforms including additional operator networks, the mobile Web and smartphone applications.
Bubble Motion is already working closely with several large associates within the SingTel Group, including Bharti Airtel in India, Telkomsel in Indonesia, and Globe in the Philippines. SingTel brings a vast network of operator partners and contacts, as well as renowned telecom expertise and experience to Bubble Motion.
"We have been impressed with the strong growth of the Bubbly service across Asia and are excited to be joining up with the Bubble Motion team" said Yvonne Kwek, CEO of SingTel Innov8. "We are looking forward to working with the company to build and expand on their early success.
"We are excited to have SingTel and Infocomm Investments join our group of existing investors as we continue to shape the mobile social media landscape in Asia and beyond," states Bubble Motion CEO Thomas Clayton. "Given our focus in mobile social media in Asia, these two new investors are the perfect fit for our current strategy and we're very excited to have them onboard."
"Bubble Motion has assembled a world-class team in Singapore. It is yet another leading tech startup leveraging Singapore's position as a base for technology innovation and to address the fast-growing Asian market," said Dr Kuo-Yi Lim, CEO of Infocomm Investments. "Infocomm Investments is pleased to join a distinguished team of investors and be a strategic partner to Bubble Motion."
For more information about Bubble Motion, please visit http://www.bubblemotion.com or email contact(at)bubblemotion(dot)com.
About Bubble Motion
Bubble Motion is pioneering social communication for mobile phones. Bubble Motion's Bubbly™ is a social messaging service where people share SMS and voice updates with friends, family, fans and followers. Bubbly is like 'Twitter with a voice' and brings social networking to mobile phones.
About SingTel's Innov8
SingTel Innov8 (Innov8), a wholly-owned subsidiary of the SingTel Group, is a corporate venture capital fund, with its own set of decision making, approval and funding processes. It has an initial fund size of S$200 million. Innov8 focuses its investments on technologies and solutions that lead to quantum changes in network capabilities, next generation devices, digital content services and enablers to enhance customer experience.
About SingTel Group
SingTel is Asia's leading communications group providing a portfolio of services including voice and data solutions over fixed, wireless and Internet platforms as well as infocomm technology and pay TV. The Group has presence in Asia and Africa with 383 million mobile customers in 25 countries, including Bangladesh, India, Indonesia, Pakistan, the Philippines and Thailand. It also has a network of 36 offices in 19 countries and territories throughout Asia Pacific, Europe and the United States.
About Infocomm Investments
Managing more than US$200 million worth of funds, Infocomm Investments invests alongside leading VCs in growth-stage infocomm enterprises. Through its work, it aims to attract and nurture a vibrant pool of technopreneurs and start-ups to enhance the technology depth and increase the diversity of Singapore's infocomm ecosystem. Infocomm Investments Pte Ltd is a wholly-owned subsidiary of the Infocomm Development Authority of Singapore.
###