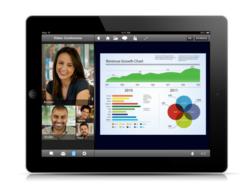 San Francisco, CA (Vocus/PRWEB) March 30, 2011
FuzeBox, the leader in mobile HD video collaboration, today announces multi-party HD video conferencing, as a major update to its industry-leading web conferencing product Fuze Meeting, which brings people together into an immersive virtual collaborative environment, regardless of their device. Fuze Meeting's new multi-party HD video conferencing comes complete with an improved user interface, support for all major smart phone, tablet and computer operating systems, and larger set of real-time multimedia sharing and annotation options.
Now, with support for even the latest devices, including the iPad 2 and the Motorola Xoom, anyone can conduct a video meeting hosted in the cloud over WiFi or 3G, from anywhere. The powerful new user interface allows either the content or video conference to take center stage, while meeting controls minimize into the background, for a truly immersive experience.
"Physical presence through video conferencing has revolutionized the way we conduct meetings and the efficiency with which we collaborate," says Jeff Cavins, CEO of FuzeBox. "This newest iteration of Fuze Meeting allows teams to collaborate as if they were together in person, using any device from any location."
Fuze Meeting's innovation moves beyond the current video collaboration space. The multi-party HD video conferencing is delivered at 720P, while maintaining the highest fidelity at low latency by dynamically adapting to a user's available bandwidth with the Vidyo Adaptive Video Layering technology, using H.264 SVC. Fuze Meeting's multi-party HD video conferencing is available for up to 10 video participants at once.
Fuze Meeting's technology is designed to make online meetings simple and intuitive, yet powerful enough to connect enterprise users face-to-face on any screen with a full suite of collaboration tools at their fingertips. Since 1998, FuzeBox has been awarded 23 patents around telephony and collaboration with an additional 42 pending.
Features of Fuze Meeting with Multi-Party HD Video Conferencing:

Immersive collaboration: a complete experience with VoIP, video conferencing and multimedia sharing (documents, presentations, videos and images) and real-time annotation.
Truly mobile: high-resolution conferencing on both WiFi and 3G.
Powerful yet clutter-free workspace: comes with an improved and cleaner user interface.
Bridging the device gap: a single solution that functions across all major platforms: Macs, PCs, iOS (including iPad2), and Android (including Honeycomb and Froyo) devices.
Reliable: no need for IT support – simple, intuitive set up hosted in the cloud.
International: introduces French and Spanish support and more international toll-free numbers.
Interested enterprise customers can learn more about the Fuze Meeting's multi-party HD video conferencing by contacting sales(at)fuzebox(dot)com or by going to http://fuze.me/video.
ABOUT FUZEBOX:
FuzeBox is the global leader in real time visual collaboration applications for millions of end users across various businesses. Its applications - Fuze Meeting and Fuze Messenger allow people to communicate, collaborate and share content from any device, across any network, anywhere in the world. Fuze Meeting is a mobile and web-based collaboration service that features integrated audio conferencing as well as high- definition, synchronized video and image sharing. The company's technology is based on a real-time visual communications platform that converges telephony, high-definition, synchronized video and image sharing across the enterprise, the web and mobile networks. FuzeBox has been awarded 23 patents and with 42 more pending in the fields of telephony, web and visual media technologies to transform how professionals and individuals communicate. For more information, please visit http://www.fuzebox.com
FuzeBox technologies and services are protected by US Patent No.'s 6,477,246; 6,738,461; 6,879,677; 6,898,275; 6,968,174; 7,103,167; 7,266,185; 7,292,841; 7,297,910; 7,308,081; 7,363,428; 7,409,048; 7,460,653; 7,508,927; 7,555,110; 7,688,958; 7,742,586; 7,818,734; 7,822,188; 7,839,987; 7,852,749; 7,907,933
###