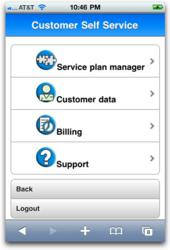 Customers can immediately deploy voice, text messaging, mobile web and Twitter applications into Voxeo's carrier-grade cloud infrastructure, backed by the industry's only 100% uptime guarantee.
Orlando, FL (PRWEB) March 30, 2011
Voxeo Corporation, the leader in Unlocked Communications™ solutions, today announced that VoiceObjects On-Demand, the new cloud-based version of its popular VoiceObjects Application Lifecycle Management Suite, has expanded to offer mobile web access as an additional customer communication channel. Customers can immediately deploy voice, text messaging, mobile web and Twitter applications into Voxeo's carrier-grade cloud infrastructure, backed by the industry's only 100% uptime guarantee.
VoiceObjects is the complete Application Lifecycle Management Suite that provides the tools needed to engage customers in better, more efficient communications. Hundreds of enterprises and service providers have used VoiceObjects on their premises to realize measurable service improvements and quantifiable operational savings. VoiceObjects On-Demand makes the solution instantly available with no up-front investment. Developers use the well-known Eclipse environment to build, deploy, manage and refine applications. Development is free. Going live is seamless.
As of today a diverse set of large-scale customers have already deployed complex applications into the VoiceObjects On-Demand cloud. Examples include a major provider of customer service for large North American retail companies, a large US utility providing emergency notifications and a company assisting federal agencies with streamlining processes. Additionally hundreds of developers have created free developer accounts and started developing applications using VoiceObjects On-Demand.
"Growing numbers of companies are selecting VoiceObjects as their application development and management platform of choice. We've trained hundreds of new VoiceObjects developers over the last 12 months, all of whom are excited about building apps for multiple channels within a single platform," said John Amein, Voxeo's Senior VP of Product Management. "With the latest release of VoiceObjects On-Demand, it's now even easier to create and deploy applications for mobile audiences."
VoiceObjects enables developers to design one application for automated customer contact and make it accessible via virtually any communication channel, including voice, text (IM, SMS, USSD), mobile web, and social networks like Twitter and Smartphone applications. This is quickly becoming a key competitive advantage as companies strive to lower self-service costs and accommodate customers' evolving communication preferences.
With VoiceObjects On-Demand enterprises or service providers can:

Accelerate development and dramatically simplify ongoing maintenance
Improve the customer experience with actionable, real-time analytics across communication channels
Improve loyalty and drive revenue with personalization
Eliminate duplicate investments with a single solution that manages the entire application lifecycle across multiple communication channels
Reduce support costs with a Unified Self-Service TM strategy that enables low-cost, text-based interactions
Create and test applications faster and eliminate the time and expense of deploying hardware on your premises
Speed migration from legacy IVR to open standard VoiceXML with VoiceObjects GUI development, automated migration tools, and the expertise of Voxeo's 24x7 Customer Obsession Teams
VoiceObjects On-Demand additionally provides rich analytics to deliver deep, real-time insight into what customers like and dislike about self-service applications. This insight allows businesses to tune and optimize their self-service solutions to enhance the customer experience, increase customer loyalty, and improve automation rates. The service includes detailed reports on average call duration, business task completion rates, speech recognition quality, most frequent users, input analysis, customer usage paths, and customer exit points. Reports can be viewed live in Voxeo's web-based customer portal and can also be batch-exported into existing Business Intelligence platforms from IBM Cognos, MicroStrategy, SAP Business Objects and Oracle BI.
To learn more about VoiceObjects On-Demand, get started with a free account today and download a free edition of the VoiceObjects 10 Desktop for Eclipse, please visit http://www.voxeo.com/vo-ondemand.
About Voxeo
Voxeo unlocks communications. We loathe the locks that make voice, SMS, instant messaging, Twitter, web chat, and mobile web unified communication and self-service applications difficult to create, manage, analyze, optimize and afford. Every day we work to unlock the neglected value of these communications solutions with open standards, disruptive innovation and a passion for problem solving--fueled by a company-wide obsession with customer success. We do so for more than 200,000 developers, 45,000 companies and half of the Fortune 100 from our headquarters in Orlando, Beijing, Cologne, and London. Visit us or join our conversations on the web at http://www.voxeo.com, blogs.voxeo.com, or twitter.com/voxeo.
Voxeo Media Contact
Dan York
Voxeo Corporation
Phone: +1 (407) 455-5859
###