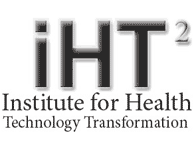 "The cloud is really a business decision. It's how you deliver a service. It's how you deliver computing power to your organization. You lease services as you need them."
San Francisco, CA (Vocus/PRWEB) March 31, 2011
Mark Blatt, MD, MBA, director of global healthcare strategies for the Digital Health Group at Intel Corporation, travels the world speaking on integrated, mobile computing and the emergence of cloud computing services. On March 23, at the Institute for Health Technology Transformation's Health IT Summit in San Francisco, he focused his keynote address on cloud computing in healthcare, and how it will enable alternative delivery models.
According to Dr. Blatt, the healthcare system of the future will be "a Web-based service that comes out of the cloud and delivers care instantaneously wherever you are, whenever you need it, for 10 cents on the dollar."
Dr. Blatt shared several observations about the current healthcare environment to emphasize the need for adaptation to a new care-delivery paradigm:

The American Medical Association estimates that physician fees will be cut by approximately $400 billion over the next 10 years. That figure is at least 10 times greater than the funding allocated to health IT by the HITECH legislation enacted in 2009.
State attorneys general (AGs) have the authority to enforce penalties for data security breaches under HITECH. The law escalates penalties for breaches up to $1.5 million. The Office of the National Coordinator for Health IT will spend $2 million with a goal of training two people in every state AG's office on how to enforce the security law.
According to a study published in the New England Journal of Medicine in 2009, about 20 percent of hospital patients get readmitted with 30 days, and a third get readmitted within 90 days. Starting in 2012, hospitals will have to report data on readmissions. Hospitals deemed to be "excess readmitters" will lose 1 percent of global Medicare payments in 2013, 2 percent in 2014 and 3 percent in 2015.
Chronic disease is the primary driver of all costs in the U.S. healthcare system, accounting for approximately 80 percent of admissions, prescriptions and doctor visits.
Dr. Blatt challenged attendees to think about ways to lower costs in the healthcare system, better manage chronic disease, and improve care coordination.
"The work that you do as a doctor or nurse, based on all these trends, is about to change," he explained. "The idea of being an excellent care provider for individual patients, one at a time, in your office, is dead. It doesn't work. Nobody can afford it. We've bankrupted the biggest companies and we're about to bankrupt the government. Something has got to change. That's why we're talking about this."
Cloud computing, will help make a difference, Dr. Blatt said.
"The cloud is really a business decision. It's how you deliver a service. It's how you deliver computing power to your organization. You lease services as you need them," he continued.
"And which services will you lease? If you're a researcher, and you're trying to find the next target molecule, would need extensive computing power. But at the end of the project you don't need it any more. You turn the switch on and you turn the switch off. You borrow computing power. If you have a growing imaging center, you rent more and more storage. Or you rent software as you need it. That's the cloud. It's on-demand. It's available when you need it. It flexes up, it flexes down, and you pay for what you use."
He noted, however, that the biggest trade-off with cloud computing will be between convenience and security.
"The cloud offers you multi-tenancy, server consolidation, flexibility and cost savings. But what if the cloud goes down? You have problems. Who gets hit with that? If you decided to put your hospital's applications up in a virtualized cloud system, and all of a sudden the doctors have no access to data, people will be yelling at the guy who made that decision. So you as a CMO, a CMIO, a CIO, have to understand where your applications run, who has stewardship, where the data is. All of that matters from a legal, regulatory point of view, as well as a service-delivery model."
Dr. Blatt suggested that a way to get started would be to use what he called a "private cloud." Intel uses such an environment.
"We built a private cloud behind the firewall for mission-critical applications. But when I do an expense report, I'm actually going into an IBM environment. When I call for technical help, I'm going into a Siemens environment," he explained. "I go through a broker portal outside my cloud where I pull in public services for things that are common and easy to do."
He added, "So what could you do in healthcare? What's common and repetitive? How about scheduling? From radiology to laboratory to doctor scheduling, could you bring that down as a cloud service? That doesn't seem like too much of a risk.
"What about training? Maybe staffing and benefits could be outsourced. So [you start to think about building] this flexible infrastructure, rather than building your own data center and building your own health information exchange, and doing it all from scratch. That's where the cloud starts to offer you benefits. The cloud makes it scalable, makes it fungible, and you can do it safely."
Care coordination also comes into play with cloud computing. "It takes a team approach, with comprehensive data everywhere, and data exchange is vital," said Dr. Blatt. "You document things, get them in a list. But then you have to share that data; there's no point in having it locked up in a silo. And you need to make it mobile because health care workers generally are mobile. Eventually, too, you want to be able to give patients data to empower them to care for themselves. They don't always have to interact with your health care system; they can do things on their own. If you want to transform your healthcare system, you have to free up the data and let it move."
The EMR of the future will be a Web-based service out of the cloud, in Dr. Blatt's view. "It's not something you construct completely on your own. You might not have the perfect application for monitoring diabetes by homecare workers. Maybe someone in Israel or China has a better program for tracking that. And in a later phase, you can add decision support. So you've got this loop of data moving around and you can add in meaningful decisions. You bring it together from different sources."
Dr. Blatt concluded, "There's a way to use a computer system to make that vision happen. And there's a way to do it cheaper, better and faster than you're doing it today: Web-based applications, streaming from the cloud in a federated manner."
By Frank Irving on behalf of iHT2
About the Institute for Health Technology Transformation
The Institute for Health Technology Transformation is the leading organization committed to bringing together private and public sector leaders fostering the growth and effective use of technology across the healthcare industry. Through collaborative efforts the Institute provides programs that drive innovation, educate, and provide a critical understanding of how technology applications, solutions and devices can improve the quality, safety and efficiency of healthcare. http://www.ihealthtran.com
###