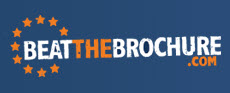 In total BAA's airports handled 7.1 million passengers in February 2011, which is an incredible number.
(Vocus/PRWEB) 31 March 2011
It has been revealed that more passengers flew into and from Heathrow airport last month, compared to the same time last year. BAA, which runs Heathrow, has announced that the airport served 4.62 million passengers in February, a figure which represents an 0.5% increase compared to February 2010. According to Beat The Brochure this shows that more people are choosing to travel by air.
Daniel Ox of Beat The Brochure says: "The increase of passenger numbers at Heathrow last month highlights a general growth in demand for air travel. While the report focuses primarily on Heathrow, the figures also show that 7.11 million passengers flew from all of BAA's airports last month, compared to 6.97 million during the same period last year. This is very encouraging news for the travel market, as it shows that people are flying in greater numbers, following the economic downturn."
BAA's three Scottish airports, Glasgow, Aberdeen and Edinburgh, also reported increases in passenger numbers. Glasgow saw a 3.9% rise , with a 13.1% jump on European routes, while Edinburgh reported a 5.0% overall increase with a 20.7% surge on European routes. Aberdeen airport also recorded a 4.9% increase in passenger numbers compared to February 2010.
Ox continues: "In total BAA's airports handled 7.1 million passengers in February 2011, which is an incredible number. While Heathrow's growth was steady, the Scottish airports all reported an increase in the number of passengers, which was probably from rugby fans travelling to the RBS Six Nations Championship. Air Cargo movements also improved last month, with BAA recording a 5.7% growth overall, and 4.7% increase at Heathrow alone. These increases lead us to believe that travel has once more become a very attractive option for consumers, and we expect to see more bookings for summer holidays this year."
About Beat The Brochure:
Beat The Brochure's technology brings all the leading UK travel suppliers together in one simple search, affording our customers access to the very best deals from leading operators such as Thomson, Thomas Cook and First Choice.
Our technology also has the ability to bring together a huge range of hotels, flights, cars and transfers to create your own bespoke package - offering you the ultimate in flexibility at lowest possible price in one seamless experience.
Beat The Brochure is part of the award winning Como Street Travel Group with offices based in Central London, Essex and Blackpool and Florida, now boasting a team of almost 100 experienced travel consultants.
Beat The Brochure is a fully bonded member of the Travel Trust Association (TTA U0898) and is licensed by Civil Aviation Authority (ATOL - T7270) offering you and your money the very best in financial protection and peace of mind at all times.
# # #