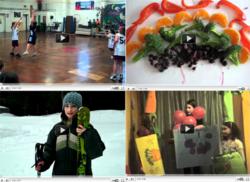 Young people must be involved in conversations about how to be fit and healthy
(Vocus/PRWEB) March 31, 2011
The children of YMCA After School at in Bolton have a message for other Vermont kids: "Instead of being lazy, be active!" In South Burlington, high school student Maraika Lambert creatively shows her peers the advantages of eating colorful vegetables. Green Mountain Technical Center students urge other young people to "unplug" and play outside. These are some of the messages conveyed through video announcements produced by children for the Vermont Fit and Healthy Kids Winter Challenge video contest, presented by the Vermont Governor's Council on Physical Fitness and Sports. The 33 videos are posted at http://vermontfitness.org/?page_id=197.
Viewers voted for their favorite videos, and council judges assessed the strongest messages and most creative efforts.
The children will receive awards on April 5, 3:30-5:00 p.m., at a health fair at Hyde Park Elementary School. Prizes, including FlipVideo cameras and ski lift tickets, will be given in several categories. Cross-country skiing champion Marc Gilbertson, a Hyde Park resident and teacher at Lamoille Union Middle School, will speak about the importance of staying fit and healthy. All Vermonters are welcome to attend the festivities, free of charge.
The health fair will also include wellness exhibits and demonstrations. Ski Vermont will hand out mementos, River Arts of Morrisville will host an active play space, and the Stowe Pediatric Outreach Project will exhibit a nutritional comparison of a McDonald's meal versus a day of healthy foods. The videos created by Vermont kids will play on a large screen.
Vermont Fit & Healthy Kids Winter Challenge proactively addresses obesity in Vermont. More than a fourth of the state's children are overweight for their age and height., only 27 percent of Vermont students get the recommended minimum of one hour of exercise daily, according to the state health department.
"Young people must be involved in conversations about how to be fit and healthy" says Janet Franz, council chair. "Asking kids to create their own messages and post them on the Internet engages their creative energy and encourages young people to pay attention to each other, rather than being forced to take advice from grownups."
For information, contact Franz at janet(at)vermontfitness(dot)org or go to http://vermontfitness.org/.
The Vermont Governor's Council on Physical Fitness and Sports is a physical activity promotion and advocacy group comprised of volunteers appointed by the Governor. The objectives of the council, defined in the legislation passed in 1986, include: Developing and coordinating services and programs of physical fitness for the people of Vermont and encouraging individuals, civic groups and the private sector to promote physical fitness.
# # #