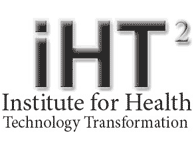 Making the right decisions in selecting the appropriate cloud platform can directly impact a company's ability to create a highly reliable and scalable IT infrastructure
New York, NY (Vocus/PRWEB) March 31, 2011
The Institute for Health Technology Transformation announced today that DecisionOne will participate and speak on the "The Cloud in Healthcare" panel at the iHT2 Health IT Summit in Atlanta, taking place April 5-6, 2011. "DecisionOne is proud to sponsor this event and participate on this important panel discussion" says Dave Weber, Vice President of Marketing at DecisionOne.
Speaking on behalf of DecisionOne will be Ken Murray, Senior Vice President of Sales and Marketing. The panel will discuss the benefits and potential risks of cloud computing in healthcare. The panelists will share success stories, best practices, as well as challenges and obstacles to using a cloud system in your organization.
"Cloud computing is now a real computing paradigm platform," says Mr. Murray. "Making the right decisions in selecting the appropriate cloud platform can directly impact a company's ability to create a highly reliable and scalable IT infrastructure. Cloud platforms will unlock the potential for knowledge transfer, collaboration and improved patient outcomes on a global scale. This will enable IT and cloud based applications to be the catalyst for practice success, while helping to optimize the cost of medical care."
DecisionOne will be joining over 200 CIO's, VP's, and Directors of IT from hospitals, health systems and larger physician practices at the iHT2 Health IT Summit in Atlanta. Attendees will network and discuss the latest trends and challenges in health IT. Topics to be discussed will include: Meaningful Use, Privacy and Security, Interoperability, Health Information Exchange, Cloud Computing, and more.
Sponsors and Partners for the iHT2 Health IT Summit in Atlanta include: Axolotl, Catalyst Solutions, DecisionOne, DICOM Grid, EDIMS, EMC Corporation, Global Net Access, Holon Solutions, Intel, MEDai, MEDSEEK, MMR Information Systems, Inc., RelayHealth, AMDIS, CMIO, eHealth SmartBrief, Executive Insight, Frost & Sullivan, IDC Health Insights, Metro Atlanta Chamber, HIMSS Georgia, MobiHealthNews, and SearchHealthIT.com.
About DecisionOne:
DecisionOne provides IT Infrastructure Services that achieve superior business results, through globally leveraged engineered services. We offer full IT lifecycle solutions to assess, design, implement and operate technology infrastructure. Our integrated onsite, remote and logistics capabilities provide a turn-key solution to ensure systems performance, client satisfaction and service quality. We support multi-vendor IT environments ranging from: the data center and network; to desktop/notebook and mobile computing; to printers, kiosks and specialized IT equipment. DecisionOne solutions - aligned with business processes, designed to optimize results. For more information, please visit us at: http://www.decisionone.com
About Institute for Health Technology Transformation:
The Institute for Health Technology Transformation is the leading organization committed to bringing together private and public sector leaders fostering the growth and effective use of technology across the healthcare industry. Through collaborative efforts the Institute provides programs that drive innovation, educate, and provide a critical understanding of how technology applications, solutions and devices can improve the quality, safety and efficiency of healthcare. http://www.ihealthtran.com
###