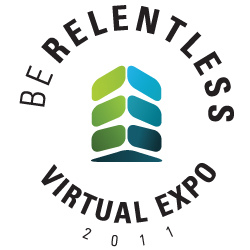 Traverse City, MI (Vocus/PRWEB) March 31, 2011
Stressing over itineraries, travel expenses, booth setup and breakdown, and more; all hoping to gain qualified leads? Oneupweb has the answer for business-to-business companies who want new clients, but don't have the time nor budget to exhibit at marketing expos—at least not physical ones.
"Be Relentless 2011 is the free online event that will attract purchase decision makers of mid-to enterprise level companies," explains Oneupweb CEO and founder, Lisa Wehr. "It's all about getting the appropriate audience in front of fitting vendors. I've done the tradeshow circuit on Oneupweb's behalf; it's always a gamble, draining and pricey—so I sat down with my marketing and PR teams and we decided it was time to change all that."
Wehr knew she wasn't alone on her thoughts of exhibiting at physical events after speaking with other B-to-B execs. Knowing the importance of showcasing services, work and products in an expo atmosphere; she researched the virtual event industry and was baffled to find little cost-effective opportunity for B-to-B companies—like her full service digital marketing agency.
"I was disappointed, but then quickly thought, 'hey why not host our own event'," says Wehr. "The point of putting this event on is to bring together the best B-to-B vendors and to connect them with qualified prospects—creating a true win-win situation that eliminates the prohibitive time and cost expenses of a physical tradeshow. We are hosting the event, Be Relentless 2011, on Wednesday, May 4, 2011 and we're using the very best virtual event platform on the market, Expos 2."
For only $2,000 B-to-B exhibitors will receive a virtual booth in the expo hall and a 30 minute video presentation in the official auditorium as a bonus thought leadership opportunity. Below are just a few of many exhibitor benefits:

Live chat with attendees
Up to 10 pieces of collateral in exhibitor booth for instant download by attendees
Direct link to company website
Complete contact information for every attendee who visits the exhibitor's booth
Custom promotional pieces: online banners, e-newsletters, email blasts, Facebook tab, site badge, national media releases, social media promotion and more
"We aim to have 5,000 attendees, so that each lead can potentially cost exhibitors less than 50 cents," explains Wehr. "We're ready to offer the best opportunity for those who exhibit at Be Relentless 2011. Instead of breaking the bank and running around with your head cut off, it's time that success comes from seeking affordable, innovative ways of connecting with prospective clients—Be Relentless 2011 will bring success to exhibitors without forcing them to leave their desktops."
To learn more about exhibiting at Be Relentless 2011, please contact Hillary Burns at 231.922.9977 ext. 148, email hburns(at)oneupweb(dot)com or visit BeRelentless2011.com. All exhibitors must be registered by Tuesday, April 5, 2011.
About Oneupweb
Oneupweb has been an innovator in digital marketing for more than a decade, creating integrated online marketing plans that incorporate Search, Social and Design services. Heralded by an independent research firm for their leadership team, Midwestern work ethic and solid experience in optimizing complicated sites, Oneupweb has been named a Top 25 Search Marketing Agency by Advertising Age for four consecutive years, and CEO Lisa Wehr is recognized as an Ernst & Young Entrepreneur of the Year. The company publishes an award-winning blog entitled StraightUpSearch, and an award-winning monthly newsletter entitled The Merge. Oneupweb is a privately held company located in Traverse City, Michigan. For more information on Oneupweb, please call 231.922.9977, visit OneUpWeb.com or follow them on Twitter @Oneupweb and @LisaWehr
###