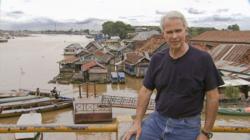 "The man was schizophrenic; he probably still is," says Dobbs of Qaddafi. "I'm not a licensed psychiatrist, but I sure know it when I meet two different guys in the same skin in the same week."
Denver, CO (Vocus/PRWEB) March 31, 2011
"Nobody really understands Libya. Not Western journalists, not other Arabs, not even many Libyans themselves; actually, it is not the Libyan nation itself that we don't understand...it's Moammar Qaddafi."
As a veteran journalist and foreign correspondent, Greg Dobbs is no stranger to meeting with leaders and luminaries from a vast number of locations. In his time covering the Middle East, he's secured interviews with former Egyptian presidents Anwar Sadat and Hosni Mubarak, former Iraqi President Saddam Hussein, the King of Jordan, and the King of Morocco. However, none of these interviews were as unique or carried such a precarious undertone as one of his interviews with Libyan dictator Colonel Moammar Qaddafi.
As the besieged Libyan leader finds himself in what could be the final days of his rule, Dobbs recalls his bizarre meeting with Qaddafi in his memoir, Life in the Wrong Lane (published by iUniverse). Conducted in 1985, the interview was done on the heels of a joint terrorist attack on airports in Rome and Vienna. While at the time there was no concrete evidence that Libya had a role in the attacks, Qaddafi was accused of either sponsoring or committing the attack.
"The man was schizophrenic; he probably still is," says Dobbs of Qaddafi. "I'm not a licensed psychiatrist, but I sure know it when I meet two different guys in the same skin in the same week."
In the chapter "Is It Gadhafi? Or Qaddafi? Kaddafi? Gadhafi? Doesn't Matter, It's For Television," Dobbs details meeting with Qaddafi at a farm outside of Tripoli, surrounded by a number of armed guards. Dobbs tells of a Qaddafi who is patently out of place, with the farm being more a photo opportunity than anything else.
At a time when very few news organizations sent reporters into Libya, Dobbs got a rare opportunity to face off against a man who he best describes as "Dr. Jekyll and Mr. Hyde alive and well in Libya." While Qaddafi's first interview after the terrorist attacks seemed to be engineered to show a kinder, gentler dictator, a press conference a couple of days later showed a much more dangerous and defiant Qaddafi. Life in the Wrong Lane gives readers a true insight into what it's like to interview one of the most controversial leaders of our time.
About the Author:
Greg Dobbs worked at ABC News for 23 years, first as a producer, then for most of his career as a correspondent, including ten years overseas. He covered major domestic and foreign stories including the Exxon Valdez oil spill, the first Gulf War, the revolution and then the occupation of the US embassy in Iran, among others. Dobbs won two national Emmy Awards in 1980 and again in 1989. He also received the "Distinguished Service Award" from the Society of Professional Journalists. In 2003, Dobbs returned to the news side as a correspondent for the all high-definition television network HDNet. A native of San Francisco, Dobbs has been married to Carol for more than thirty-five years, and currently resides in Colorado.
###