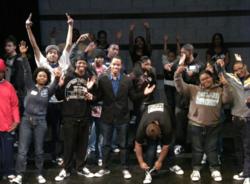 "It is possible to do what you love and love what you do, right here in Detroit," said James Smith Moore, CEO of Jimmy Kicks.
Detroit, MI (Vocus/PRWEB) March 30, 2011
Quicken Loans Inc., the nation's largest online mortgage lender, and Jimmy Kicks, a limited edition footwear company, partnered to discuss education, careers and entrepreneurialism with students at Detroit's Boll Family YMCA on Saturday, March 26 in Detroit.
Sponsored by Quicken Loans, a "Day of Entrepreneurship" gave young adults age 14-21 who are part of the YMCA's Fresh Eyes Program a chance to develop ideas for career paths and plans for continued education. Jimmy Kicks CEO James Smith Moore shared his vision for the future of entrepreneurship in Detroit and the challenges and rewards of starting a business.
"It's important for young people to realize they not only have a responsibility to seize opportunity to share their talents, but to create it," said Moore. "It is possible to do what you love and love what you do, right here in Detroit."
A graduate of Cass Technical High School in Detroit, Moore decided to forego college to pursue his dream of becoming an entrepreneur. The 21-year-old is dedicated to operating a successful business in the city and becoming a role model for urban youth. Jimmy Kicks grew from the business plan he created while attending Bizdom U, the Detroit-based non-profit entrepreneurial boot camp founded by Dan Gilbert, Founder and Chairman of Quicken Loans, Inc.
"James Moore is a great example of how young adults with an entrepreneurial spirit can inspire others to follow their dreams while also shaping and enhancing the future of our region," said Wendy Kemp, Community Relations Director at Quicken Loans.
To conclude the day, each student received a new pair of limited-edition Jimmy Kicks shoes and wore them during a hip-hop dance class led by the Means Dance Group. The students also attended a hip-hop rhythm performance workshop, which featured the beat-box talent of Stevie Soul. The event was so successful that students are planning to visit the Jimmy Kicks headquarters near Wayne State University's TechTown facility to gain a hands-on experience of a day in the life of a small business.
About Quicken Loans Inc:
Quicken Loans Inc. is the nation's largest online retail mortgage lender and among the five largest overall retail home lenders in the United States. The company closed a record $29 billion in retail home loan volume across all 50 states in 2010, and recently closed its 1 millionth loan. Quicken Loans employs approximately 3,700 team members and generates loan production from five web centers located in Michigan, Ohio and Arizona. The company also operates a centralized loan processing facility in Michigan as well as its San Diego-based One Reverse Mortgage unit. Quicken Loans ranked #1 in customer satisfaction among all home mortgage lenders in the United States by J.D. Power and Associates for 2010. "QuickenLoans.com" has been named "Best of the Web" by Forbes and Money magazines. The company also has been named to FORTUNE magazine's list of the country's "100 Best Companies To Work For" eight consecutive years, ranking as high as #2, and named in the Top-15 of Computerworld magazine's "100 Best Places to Work In Technology" for six years in a row. Quicken Loans ranked #1 in the Detroit Free Press' "Top Workplaces of 2010" List. The company recently moved its headquarters and 1,700 of its 3,700 full-time team members to downtown Detroit. For more information about Quicken Loans, please visit http://www.quickenloans.com.
About Rock Holdings Inc:
Rock Holdings Inc. is the parent company for several financial services-related businesses and employs over 4,000 team members. These client-focused and technologically driven companies include Quicken Loans, the nation's largest online home lender and One Reverse Mortgage unit, the fastest growing reverse mortgage lender in America; Title Source, a nationwide leader of title insurance and settlement services; Quicken Loans Mortgage Services (QLMS), a mortgage origination platform servicing community banks and credit unions across the country; In-House Realty, the preferred real estate partner of Quicken Loans that matches clients with trusted real estate agents in all 50 states; and, Quizzle.com, the online innovator and website where consumers manage their home, money and credit. Rock Holdings, Inc. also recently moved its headquarters to downtown Detroit.
About Jimmy Kicks:
Jimmy Kicks is a limited-edition sneaker company selling 250-500 numbered pairs of sneakers per design. New sneaker concepts are submitted by independent artists, the online community votes on their favorite shoes on a quarterly basis and the top designs are manufactured and made available for purchase on the website. Jimmy Kicks combines online retail with social media, encouraging interaction between the Jimmy Kicks team, graphic artists and consumers. Not just another sneaker brand, Jimmy Kicks is an experience for those who want "sole" discretion to define their style. For more information, visit http://www.jimmykicks.com.
###