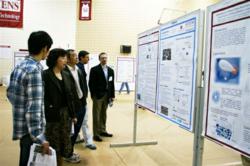 Entrepreneurship transforms that research developed at the University and turns it into solutions that improve our world, create jobs and provide our students with the skills they need to compete globally.
Hoboken, NJ (Vocus/PRWEB) March 31, 2011
R&E Day 2011 to feature high-profile keynote speakers with a focus on innovation
Stevens Institute of Technology announces agenda for Research & Entrepreneurship (R&E) Day 2011, which will feature renowned leaders in innovation, start-up CEO presentations, and student entrepreneurial projects. The annual event, split into two distinct but complementary elements – the Business Model Innovation Conference and the Stevens Start-up Venture Forum – is scheduled for April 29, 2011.
Held in the Canavan Arena on the Stevens campus, R&E Day is designed to showcase Stevens' leadership in innovation for business and students, and in the development of world-class intellectual property ready for commercialization.
The Business Model Innovation Conference portion of the day will be held from 8 am until 1 pm. Dr. Vijay Govindarajan, one of the world's leading experts on strategy and innovation, will be the opening keynote speaker. An expert on innovation and empowering business teams to implement new strategies, Dr. Govindarajan works with CEOs and top management teams in Global Fortune 500 firms to discuss, challenge, and escalate their thinking about business strategy. The author of several books, he is a sought-after speaker and frequent blogger on innovation.
In his keynote, "Strategy is Business Model Innovation," Dr. Govindarajan will discuss how to reinvent business models to address the daily challenges of an era expiring constant change.
Mark W. Johnson, another innovation thought leader, will follow with a second keynote on "Business Model Innovation for Transformational Growth" designed to help executives apply and implement innovation to achieve such changes for their companies. Johnson is the Chairman and Co-Founder of Innosight, a strategic innovation consulting and investing company. Relying on his hands-on knowledge and insights as well as case studies, Johnson presents a practical perspective on embracing innovation to accomplish remarkable goals for your business.
The Business Model Innovation Conference will continue with a panel discussion which brings together three leaders in strategic innovation and technology investment: George Glackin of Procter & Gamble, Bruce D. Kirk of Corning Incorporated, and Stephen J. Socolof of New Venture Partners. Dr. Peter A. Koen, a Stevens professor in the Howe School of Technology Management and founder of Stevens start-up ID8 Systems, will moderate the panel that will focus on how to identify, foster and commercialize breakthrough innovations.
After lunch, the Stevens Start-up Venture Forum will kick-off. Eight current Stevens' start-up companies with exciting technologies will present their products and business models that span a truly diverse collection of applications. Another highlight of the annual R&E Day agenda, this portion of the day will feature the Student Elevator Pitch Competition. Eleven student teams will compete this year, presenting their unique projects and ideas to investors, industry, and other members of the high-tech research community.
"Stevens is a hotbed of technology development that it engineers into systems and solutions for real-world problems," states Malcolm Kahn, Vice President of Enterprise Development and Licensing at Stevens. "Our strategy is to De-Risk technology by turning research into integrated systems that are field proven for efficacy, reliability, and user benefits. This approach adds value to the University's core technology and makes it significantly more attractive to partners, investors, and entrepreneurs."
For more than 140 years, Stevens has promoted a culture of entrepreneurship and innovative thinking which is highlighted and showcased through the annual R&E Day events.
"Entrepreneurship transforms that research developed at the University and turns it into solutions that improve our world, create jobs and provide our students with the skills they need to compete globally," says Dr. Christos Christodoulatos, Associate Provost for Academic Entrepreneurship. "I am excited about the new format of R&E Day as it will provide the Stevens researchers, entrepreneurs and students a forum to interact even more closely with today's leaders in innovation."
Learn more about Research and Entrepreneurship Day 2011 at the event website or register now.
About the Office of Academic Entrepreneurship
Stevens' Office of Academic Entrepreneurship (OAE) seeks to redefine the traditional university-industry technology transfer process by creating an unconventional entrepreneurial solution: the Academic-Innovation-Transfer process. The mission of the OAE is to foster and nurture an entrepreneurial culture that is accepted across the entire Stevens community. The vision of the OAE is to achieve a global recognition of Stevens as a premier technological university of academic entrepreneurs. The key to success is the establishment of an open system in which competent partners with diverse backgrounds combine their complementary expertise to create technological innovations that lead to successful technology transfer ventures. Such key partners include faculty, students, entrepreneurs, venture capitalists and investors, industry partners, and representatives of government entities and regulatory agencies. Visit us online: http://www.stevens.edu/entrepreneurship
About Enterprise Development and Licensing
The goal of the Department of Enterprise Development and Licensing at Stevens is to accelerate technology commercialization that has the potential to create high-tech manufacturing in the United States, while also providing real-world experiences that will help the University train tomorrow's technology leaders. The University recognizes that startups are the most successful way of bringing valuable technology to market for the betterment of mankind and to renew American innovation, competitive spirit, and productivity. Visit us online: http://www.stevens.edu/startups
About Stevens Institute of Technology
Founded in 1870, Stevens Institute of Technology, The Innovation University™, lives at the intersection of industry, academics and research. The University's students, faculty and partners leverage their collective real-world experience and culture of innovation, research and entrepreneurship to confront global challenges in engineering, science, systems and technology management.
Based in Hoboken, N.J. and with a location in Washington, D.C., Stevens offers baccalaureate, master's, certificates and doctoral degrees in engineering, the sciences and management, in addition to baccalaureate degrees in business and liberal arts. Stevens has been recognized by both the US Department of Defense and the Department of Homeland Security as a National Center of Excellence in the areas of systems engineering and port security research. The University has a total enrollment of more than 2,350 undergraduate and 3,600 graduate students with almost 450 faculty. Stevens' graduate programs have attracted international participation from China, India, Southeast Asia, Europe and Latin America as well as strategic partnerships with industry leaders, governments and other universities around the world. Additional information may be obtained at http://www.stevens.edu and http://www.stevens.edu/news.
###