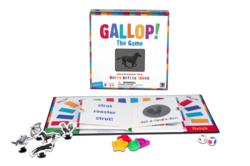 GALLOP! The Game is a perfect first game for preschoolers who are already so familiar with the book.
(PRWEB) March 30, 2011
Discovery Bay Games is excited to announce a licensing agreement with Workman Publishing Company to bring Rufus Butler Seder's New York Times and international bestseller, GALLOP!, to life in a board game. GALLOP! The Game, featuring the magic of Scanimation®, will be available nationwide in July 2011.
Perfect for ages 3 and up, GALLOP! The Game includes a game board with a magical Scanimation door, two dice (colors and numbers, depending on the age and ability level of the players), five animal movers (horse, cat, turtle, butterfly, and rooster), and four guess tokens. So, which animal will win the race? Players take turns opening the Scanimation door to see which animal will move around the track on each round. The first player or players to strut, gallop or flutter their way around the track wins.
Beginning this year, Discovery Bay Games will license and distribute English-language editions as well as foreign language editions of GALLOP! The Game.
"With the worldwide success of GALLOP!, we saw an exciting opportunity to incorporate the magic of the book into a board game," said Craig Olson, CEO of Discovery Bay Games. "GALLOP! The Game is a perfect first game for preschoolers who are already so familiar with the book."
"GALLOP! The Game is the natural next step in the evolution of Scanimation technology – a step that keeps its end-user – preschoolers – beautifully in mind," said Raquel Jaramillo, Director of Children's Publishing at Workman. "The Game has the same magical appeal as the book, and nicely incorporates new elements that make it such an appealing game."
About Rufus Butler Seder
Rufus Butler Seder is the inventor of Lifetiles, glass-tiled murals that appear to come to life when the viewer walks by; he's installed them at the Smithsonian, Sea World, Union Station, and other museums, aquariums, train stations and ocean liners around the world. He is also the founder of EyeThink, Inc., a company that develops and produces a line of toys and gifts using the technologies he's invented.
About Workman Publishing Company
Workman Publishing Company, a medium-sized independent publisher, is the creator of award-winning calendars, cookbooks, parenting/pregnancy guides, and fun, educational children's titles, as well as gardening, humor, self-help, and business books. From our What to Expect series and Page-A-Day Calendars to the iconic 1,000 Places to See Before You Die and Gallop!, the one-of-a-kind, moving picture book for kids, our products inspire readers and other publishers alike. For more information, visit http://www.workman.com.
About Discovery Bay Games
Based in Seattle, Discovery Bay Games makes award-winning and innovative games, puzzles, apps, and tablet and IOS game accessories that suit all ages and interests. The company's mission is to bring friends and families together to play, laugh, and interact. Discovery Bay is led by experienced game developers and professionals from a bevy of game companies including Cranium, Hasbro, Mattel, Screenlife, and Wizards of the Coast. In addition to developing original content, Discovery Bay partners with internationally recognized brands and licensors such as Broadway Video/Saturday Night Live, The Smithsonian Institution, Highlights For
Children, Ringling Brothers and Barnum & Bailey Circus, GALLOP!, Norman Rockwell, University of Oxford, and many more. For more information, visit http://www.discoverybaygames.com.
Media contact
Natalie Dent
Director of PR / Discovery Bay Games
Office: (206) 547-1441 / Cell: (206) 605-1802
Email: natalie(at)discoverybaygames(dot)com
###