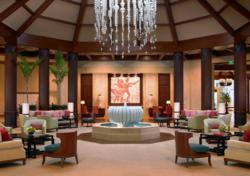 According to the surveys, more of the world's best were designed by WATG than by any other firm.
Irvine, CA (Vocus/PRWEB) March 31, 2011
What do 45 of the world's top hotels have in common? All were planned, designed, and/or renovated by one firm: WATG.
Conde Nast Traveler and Travel+Leisure magazines recognize hotels that have withstood the toughest test of all—time. Their annual surveys of readers rank the world's best properties.
According to the surveys, more of the world's best were designed by WATG than by any other firm.
Conde Nast Traveler's "Gold List" includes a separate category for design. The average design score for WATG-designed hotels was 91.6 (out of 100). St. Regis Princeville tops the list with a design score of 96.6.
The Reef, Atlantis, Paradise Island scored a perfect 100 from Conde Nast Traveler in the "activities" category.
The Four Seasons Hotel, in Mexico City, was voted the best hotel in all of Mexico by readers of Travel+Leisure.
Of the 14 best hotels that are located in Hawaii, nine were designed and/or renovated by WATG.
Other WATG-designed projects awarded with "the world's best" distinction can be found throughout the US, China, England, Ireland, India, and Indonesia. To see the full list, please visit WATG.
What is it about these properties that guests love? "We've specialized in hotel design for over six decades, but we don't often get to hear directly from our clients' customers," stated Howard J. Wolff, WATG senior vice president. "Recently, we started contacting general managers at these hotels to learn first-hand what guests are telling them about the design. What we have learned," said Wolff, "is that guests have a strong emotional connection to their favorite properties. They often cite intangibles – such as sense of place, design inspiration, relation to the natural environment, comfort, and attention to details -- to describe what they love and why they keep coming back."
WATG specializes in hospitality, leisure and entertainment design from its offices in Irvine, Orlando, Seattle, Honolulu, Singapore and London. The firm is best known for creating internationally-acclaimed destinations in 160 countries. For more information, visit WATG.
###