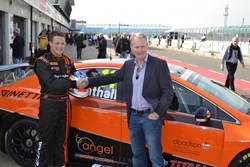 (PRWEB UK) 31 March 2011
The UK's leading water cooler service provider Angel Springs recently joined Angel's rising star Frank Wrathall and the rest of the Dynojet racing team at the British Touring Car Championship media day at the Silverstone racing circuit Northamptonshire.
Rising talent Frank Wrathall Jr will be competing in the Touring Car Championship this season, and Angel Springs, sponsors of Frank the along with Dynojet racing team, were pleased to see the unveiling of the new generation Toyota Avensis touring car.
At only 24 years of age Frank Wrathall is a promising talent with a long and extensive history of being behind the wheel, starting when he was only 10 years old. Winning the Ginetta 50 2010 championship has filled Frank with confidence about the coming season despite over-coming obstacles such as moving from rear wheel drive to front wheel drive he feels this is the challenge he needs and is very realistic about the result he wants.
Angel have known Frank and the rest of the Dynojet racing team for a number of years and shown there support through sponsorship of Frank under their Rising Stars Scheme, as they to believe that this is beginning of something great for Frank and the Dynojet racing team.
About Angel Springs
Angel Springs is the UK's leading water cooler service provider. Established since 1989 they provide both bottled and mains fed water coolers to businesses and organisations throughout the UK. Focussing on delivering local service, nationally they service over 45,000 water coolers from eight depots throughout the UK and employ over 180 staff.
http://www.angelsprings.com/
Contacts:
John Dundon – Managing Director
Email: jdundon(at)angelsprings(dot)com
John Murphy – Commercial Director
Email Jmurphy(at)angelsprings(dot)com
# # #