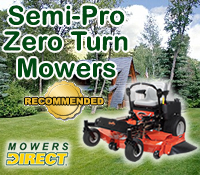 With large tires, hydrostatic transmissions and a multitude of cutting height adjustments, semi-pro zero turn mowers are a great choice for large expanses of turf
Bolingbrook, IL (Vocus/PRWEB) March 31, 2011
Today MowersDirect.com announced its recommendations for the best semi-pro zero turn lawn mowers.
"With large tires, hydrostatic transmissions and a multitude of cutting height adjustments, semi-pro zero turn mowers are a great choice for large expanses of turf," said Todd Gwaltney, resident product expert at Mowers Direct. "Additional comfort features such as high-back seats and rear-suspension make these mowers the perfect choice for anything short of full commercial use."
Gwaltney added that many retailers and power equipment dealers only carry one or two brands of zero turn mowers.
Unlike these wholesalers, MowersDirect.com stocks zero turn lawnmowers from seven top brands including Husqvarna, Toro, Ariens and Simplicity.
The online retailer combined retail prices, recent sales history, customer reviews and product performance tests to generate its final recommendations.
Once all the research and field tests were completed, only three semi-pro zero turn mowers sold by Mowers Direct were given its prestigious "Recommended" status.
Top Semi-Pro Zero Turn Lawn Mowers
Good: Swisher (60") 27 HP Zero Turn Riding Lawn Mower - ZT2760B
Better: Ariens MaxZoom60 (60") 26HP Zero Turn Lawn Mower - 991087
Best: Simplicity ZT2648 (48") 26HP Zero Turn Mower - 5900765
In addition, Gwaltney personally wrote online reviews for each zero turning radius mower, explaining why Mowers Direct recommended it.
By providing the recommendations and reviews, MowersDirect.com hopes to arm shoppers with enough ammunition to pick the perfect semi-pro zero turn mower for their needs.
Power Equipment Direct operates nine niche online superstores. In addition to MowersDirect.com, the Bolingbrook, IL-based company operates AirCompressorsDirect.com, ElectricGeneratorsDirect.com, PressureWashersDirect.com, SnowBlowersDirect.com, WaterPumpsDirect.com, SumpPumpsDirect.com, ChainSawsDirect.com and LogSplittersDirect.com.
# # #