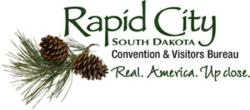 Rapid City, SD (Vocus/PRWEB) March 31, 2011
Rapid City is making a major league effort to bring new visitors to the Black Hills this summer. Starting April 3rd, the Convention & Visitors Bureau is partnering with the Colorado Rockies to promote Rapid City during 13 games this baseball season.
"Every time the Rockies host a Sunday game at Coors Field in Denver, more than 40,000 people will hear an invitation to visit Mount Rushmore and Rapid City," says Michelle Lintz, executive director of the Rapid City Convention & Visitors Bureau. "During those games, the 'Rockpile,' a value-priced section of outfield seats, will be renamed the 'Rushmore Rockpile.' Rapid City messages will display on the giant ballpark video screens, the stadium announcer will refer to it as the 'Rushmore Rockpile' and people sitting there will have a chance to win Rapid City prizes."
The biggest single-game promotion will be on July 3rd. Mascots dressed like the four Presidents will throw out the first pitch and visit with the crowd. Four free vacations to Rapid City will also be given away during the game. Outside of the ballpark, the CVB will spread its message to even more potential visitors by wrapping a train on Denver's light rail system with a Mount Rushmore and Rapid City message.
"Denver is one of our target markets this year. We think Sunday afternoon Rockies games will be a great time and place to reach families and promote Rapid City as a vacation destination," states Lintz. "We want them to know the Black Hills offers great national parks and monuments plus outdoor attractions and activities without the congestion they often encounter in Colorado."
Rapid City is also targeting Minneapolis, Omaha, Sioux Falls and Winnipeg, Canada with summer marketing messages. The CVB is working to increase the economic impact of the visitor industry beyond the $304 million spent locally by tourists last year.
2010 was a success in a couple of ways for the Rapid City group. First visitor spending jumped 11.5% last year. Then the CVB won a Silver Addy®for its marketing campaigns.
The Rapid City CVB is a division of the Rapid City Area Chamber of Commerce. The CVB's mission is to market the Rapid City area as a convention and leisure destination and to promote economic growth that will enhance the area for visitors and residents.
###