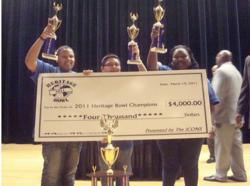 Chester, PA (Vocus/PRWEB) March 31, 2011
Three teams of seventh-and eighth-grade students from Chester Community Charter School (CCCS) recently competed against 33 middle and high school teams in the 2011 Heritage Bowl, a day-long Black History Academic Tournament designed to educate and stimulate college-bound students from across the Pennsylvania, New Jersey and Delaware tri-state area. At the competition's end, one of those three teams, CCCS's "The Truth," whose members were 7th-grade students Erli Acuna and Davon Lewis and 8th-grader Dasha Jenifer, emerged victorious, becoming the first middle-school team to win the competition in the event's six-year history.
The program, which began in 2006 and was presented by ICONS, a Delaware-based volunteer organization dedicated to community empowerment via education and cooperative economics, took place at Lincoln University, and included more than 200 area students. For placing first, Chester Community Charter School, the largest K-8 charter school in Pennsylvania, and its winning students, received $4,000 in college savings bonds.
The tournament is a game show-style competition wherein teams of three-to-five students compete by answering a series of questions pertaining to African-American history. Chester Community Charter School was led by teams, "The Truth," "Invictus" (members: 7th-grader Kene Baker and 8th-grade students Kaya Banton, David Collins and Lanijah Lawler) and "The Movement" (members: 7th-grade students Sujeylee Alvarez, Isaiah Clark and Tiara Harris and 8th-grader Jalenie Smith).
The Heritage Bowl began as an educational scholarship program designed to enhance the study of African-American history and increase the interest of young people in knowing the contributions African Americans have made to black communities and to the nation, as a whole. The event promotes leadership skills, teamwork, reading comprehension, strategy formulation and family/community participation.
Commenting on the recent win and success of the students, Steven E. Lee, CEO, Chester Community Charter School, said, "Our students are outstanding. I am so proud of the dedication to their studies and the growing leadership capabilities I see in them every day. The fact that, in this and other programs, they hold up our CCCS banners with such dignity and self-respect, proves that great things do come out of Chester."
He continued, "I'm very thankful for our committed teachers and staff, who worked tirelessly to prepare our kids for this competition. The Heritage Bowl conveys a message, consistent with what we, here, at CCCS, value; an appreciation for history and education, as well as a sincere appreciation for the achievements of those who most closely resemble our student base."
Chester Community Charter School opened its doors on September 9, 1998, serving 97 students from its modest four meeting rooms, in the lobby of the Howard Johnson Hotel. Since that time, the school has steadily grown to include more than 2,700 students in ten state-of-the-art buildings. Recently, Chester Community Charter School provided personal laptop computers, through the "One Laptop per Child" program, to 1400 of its students in grades 3 through 8.
###