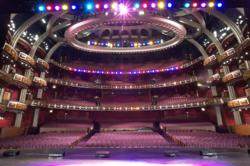 "Here at the Kodak Theatre, we now have a higher standard of security, said Sergio Ruezga, Director of Events. "The Brivo system is a great tool, it serves as an effective deterrent, and it provides us with a welcome peace of mind."
Bethesda, MD (Vocus/PRWEB) March 31, 2011
Brivo Systems LLC, leader in Software as a Service applications for security management, today announced that the Kodak Theatre in Hollywood, CA, has chosen Brivo Systems to substantially upgrade security at the famous venue. Tech Controls, Inc., is the integrator for this continuing project.
Prior to selecting Brivo's ACS OnSite Aparato™, the Kodak Theatre relied on standard locks and keys to manage access in and around the venue. "We wanted to create a much higher level of security," explained Sergio Ruezga, Director of Events at the Kodak Theatre. "We are the home for the Academy Awards, so security must be a top priority. In addition, we recently signed a deal with Cirque du Soleil to jointly create a new show called IRIS, which will be here for 10 years beginning on July 22, 2011. That will mean 700 new employees, a lot of coming and going, and the need to secure a $120 million production."
In addition to the Brivo access control system, Ruezga worked with Tech Controls to install integrated video surveillance (a Dedicated Micros DVR), which will provide theatre staff with greatly enhanced access control combined with video verification. Ruezga continued, "With this new integrated system, not only are we helping to ensure a lot of expensive equipment doesn't walk away and that staff are using the right doors, we're also working hard to make everyone feel comfortable. This new partnership is like a marriage. We've got staff from 14 different countries, and we want to make them feel at home."
Because of the theatre's high profile guests and the premier events staged there, Ruezga and Tech Controls selected Brivo's ACS OnSite Aparato for its ease of use, highly secure database, and so management could maintain all data in-house.
Ruezga and staff have completed enrolling all the new employees and they have created separate access groups to correspond to all the different functions and entities that work in and serve the theatre. This ensures that each staff member has access privileges—specific doors, days, and times—that correspond exactly with the needs of their function and responsibilities.
"So far, the Brivo system is very user friendly," Ruezga commented. "The training from Tech Controls has been fantastic, they really know the system. The system has performed very well, exactly as it was initially demonstrated to us and the management team. In addition to the ease of specifying and controlling access, I am able to run reports that give me visibility as to who came in, who went out, and who was in the vicinity of what equipment. Here at the Kodak Theatre, we now have a higher standard of security. The Brivo system is a great tool, it serves as an effective deterrent, and it provides us with a welcome peace of mind."
For more information on the Brivo Online Access Control System, contact Brivo toll–free at 1-866-692-7486, option 1 or email sales(at)brivo(dot)com. To view a demo, visit http://www.brivo.com/demo
About Brivo Systems
Brivo Systems LLC, is an online physical access control system provider for organizations that need to protect and remotely monitor buildings and perimeter entry points using Internet and wireless technologies. The company's hardware products and software services enable businesses to control physical access to offices, warehouses, remote/unmanned buildings, or sensitive areas such as computer rooms, where real-time control and accountability of entry are important. The company's Web-hosted solutions are based on open technologies that connect dispersed facilities to the Internet using secure, wide-area communications. For integrators, Brivo provides simple installation and one-hour end-user training.
Brivo is a wholly owned subsidiary of The Duchossois Group, a privately held holding company, headquartered in Elmhurst, Illinois, which owns AMX, The Chamberlain Group and Milestone AV Technologies. Duchossois also holds strategic interests in Churchill Downs, Inc., and a number of other diversified businesses.
For media queries:
Bruce J. Doneff
Public Relations
(201) 966-6583
bruce.doneff(at)brivo(dot)com
For Brivo Systems, please contact:
Meredith J. Esham
Assistant Vice President of Marketing
(301) 664-5272
meredith.esham(at)brivo(dot)com
###