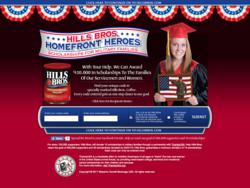 This is our chance to thank all military service personnel and their families for their dedication, bravery and ongoing sacrifice in defense of this country, whether it's overseas or here on the homefront
Portsmouth, VA (Vocus/PRWEB) March 31, 2011
Hills Bros.® Coffee and ThanksUSA, a national non-profit organization dedicated to thanking American troops, today kicked-off a new scholarship campaign designed to support the educational dreams of military families.
Coffee lovers across the country will support this worthwhile effort by purchasing special Hills Bros. Homefront Heroes cans of Hills Bros. Coffee.
Starting today and through March 31, 2012, specially marked cans of Hills Bros. Coffee will include inserts with unique "support codes." When the codes are entered at the campaign's website, http://www.hillshomefrontheroes.com, consumers add to the total number of scholarships Hills Bros. Coffee will provide through a partnership with ThanksUSA.
"This is our chance to thank all military service personnel and their families for their dedication, bravery and ongoing sacrifice in defense of this country, whether it's overseas or here on the homefront," said Sarah Mullin, brand manager, Hills Bros. Coffee and Cappuccino.
Hills Bros. will donate ten $3,000 scholarships to military families for every 100,000 online supporters. The goal is to register 500,000 supporters and award 50 scholarships over one year, a potential $150,000 gift. Hills Bros. guarantees a minimum donation of 10 scholarships to deserving children and spouses of military servicemen and women.
"We encourage coffee lovers to look for the special cans of Hills Bros. Coffee in stores, register their support codes at http://www.hillshomefrontheroes.com and help us reach our maximum scholarship goal," Mullin said.
The Hills Bros. Homefront Heroes scholarships are available to children and spouses of uniformed military personnel in all branches of the U.S. military (Army, Navy, Air Force, Marine Corps, Coast Guard, National Guard and Reserves). ThanksUSA scholarships are available to military dependents who are interested in pursuing undergraduate academic degrees, vocational and trade certifications in either two- or four-year, public or private institutions.
Scholarships are awarded based on financial need, academic performance, leadership and community service. Children or spouses of service personnel killed or injured during active duty will be given preference. "The best way to thank the troops is by giving the gift of education to their families. This unique tribute sponsored by Massimo Zanetti Beverage USA permits Americans across the country to remember and thank the troops each time they pick up a can of Hills Bros. coffee," said Bob Okun, CEO and Chairman of ThanksUSA.
To apply for a Hills Bros. Homefront Heroes scholarship, visit http://www.ThanksUSA.org. Applicants may register now through May 15, 2011. Recipients are selected by Scholarship Management Services and ThanksUSA. Chosen applicants will be notified in July 2011. The program is competitive; not all applicants will be selected as recipients.
About the Brand—Hills Bros. Coffee.
Brothers R.W and Austin Hills began selling coffee in 1871 in San Francisco's Bay City Market. By 1906, the Hills Bros. brand had revolutionized coffee packaging by introducing the vacuum-packed can that remains the most widely used packing method for maintaining optimum coffee freshness. Today, Hills Bros. coffee is a top brand in the Midwest region and is available in a variety of blends and packaging, including whole bean, instant, and ground. http://www.hillshomefrontheroes.com
About ThanksUSA
Founded in the fall of 2005, ThanksUSA, a non-partisan 501 (c) (3) organization, is an effort to thank the men and women of our Armed Forces and their families for their service to the country with the gift of education. The organization provides need-based, post-secondary education opportunities to the children and spouses of active-duty status military personnel through competitive scholarships. For more information, visit http://www.ThanksUSA.org.
About Massimo Zanetti Beverage USA
Massimo Zanetti Beverage USA (MZB-USA) is among the nation's largest coffee roasters, with nationally recognized retail brands including Chock full o'Nuts®, Hills Bros.®, Segafredo Zanetti®, MJB®, and Chase & Sanborn®. With its headquarters and state-of-the art manufacturing facility located in southeastern Virginia, the company produces proprietary and private label coffee, tea and drink mix for customers in all retail channels and food service throughout North America and around the world. MZB-USA franchises Chock full o'Nuts® Coffee Shops and Segafredo Zanetti Espresso® Cafés. MZB-USA is part of Massimo Zanetti Beverage Group, headquartered in Treviso, Italy, is a privately held, vertically integrated organization of nearly 50 companies operating in about 100 countries that cultivates, trades, processes, roasts, packages and distributes coffee throughout the world. For more information, visit: http://www.mzb-usa.com
# # #