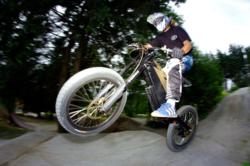 Scottsdale, AZ (PRWEB) April 20, 2011
Stealth Electric Bikes USA began offering the two of their top selling electric bikes in the United States just a few weeks ago. The Fighter and The Bomber may look like your typical mountain bike, however these Stealth Electric Bikes provide both speed and distance to a growing number of electric bike enthusiast.
While Stealth Electric Bikes are available throughout the United States, these bikes are selling quickly in California, Oregon, New York and Florida due to the sales promotion by independent dealers in these states.
In just three months in the U.S., sales at Stealth Electric Bikes USA has continued to dramatically increase as dealers from across the nation become authorized retailers and drop ship dealers in order to offer their customers the fastest and most reliable electric bikes in the industry.
The Bomber by Stealth Electric Bikes can travel a distance of 50 miles with a full 2-hour recharge.. Likewise, The Fighter by Stealth Electric Bikes offers distances of up to 37 miles on one charge.
"We are now bringing the bikes to the Canadian market an entire year earlier than we had initially planned." said Darin Brin, Director. "Many dealers in Canada actually have a waiting list of clients who were waiting for us to open up in their market, so it became evident very quickly that we need to expedite the process and open Stealth Electric Bikes Canada immediately." said Brin.
Stealth Electric Bikes USA and Stealth Electric Bikes Canada are currently accepting applications for authorized retailers and drop ship dealers throughout the U.S. & Canada. Dealerships are accepted on a first-come/first-serve basis on acceptance and the inventory availability.
Stealth Electric Bikes can also be purchased directly from the appropriate retail websites at: http://stealthelectricbikesusa.com and http://stealthelectricbikescanada.com.
About Stealth Electric Bikes USA
Stealth Electric Bikes USA is based in Phoenix, AZ and can be found online at: http://stealthelectricbikesusa.com
Stealth Electric Bikes USA will be sending riders from the U.S. & Australia to the Pikes Peak International Hill Climb in June and plans on sending riders to the Pikes Peak Challenge at the interbike conference in Las Vegas, September 14th through 16th.
###