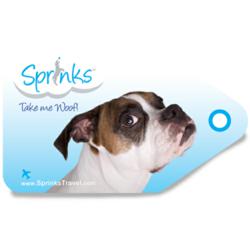 Healthy Pets on the Go
San Diego, CA (PRWEB) May 18, 2010
Sprinks Pets, known for their commitment to pet health, is pleased to introduce their latest pet travel product—Sprinks Travel Tote. The travel tote is the perfect solution for the traveling dog. It combines practical travel essentials to make traveling with your pet an easy and stress free event. The travel tote is a great solution for dogs of all ages and can be used for various types of travel including airplanes, car trips, cruises, camping, and even day to day situations such as doggy daycare.
The Sprinks Pet Travel Tote combines Sprinks™ all natural veterinary formulated supplements with pet travel necessities, and is the ideal size for travel. Its size allows the travel tote to easily slip into a purse, carryon, or to even be carried with its durable cord handle. Each travel kit contains:

Sprinks Relax- An all natural calming supplement for dogs (contains Valerian Root, Lemon Balm, Vitamin B1, and L-Theanine). Great for flying, car trips, and stressful situation. Week's worth supply (7 chews) for a medium sized dog.
Sprinks Regul8- All natural daily probiotic for dogs (contains probiotic strain Bacillus Coagulans). Great for transitioning dog food and aiding digestion. Week's worth supply (7 chews) for a medium sized dog.
Sprinks Wipers- Calming lavender scented grooming wipes. Travel-sized pack of 10 large wipes.
Sprinks Doggie Waste Bags- Fresh laundry scented biodegradable doggie waste bags. Roll of 15.
Sprinks Water Bowl- A reusable waterproof, collapsible (collapses to the size of a credit card) doggie bowl.
Kathy Petrucci, DVM and CEO says "Sprinks is committed to providing customers with high quality pet products, and our travel kit demonstrates this. We're very excited to launch a pet travel kit that encompasses all elements of our Sprinks product line. Our pure high quality ingredients are sourced from the United States and Europe, and all of our products are manufactured here within the United States. Our pet travel tote gives consumers top quality pet supplements and grooming products they need while traveling to make traveling an easy and stress free event." The Sprinks Travel Tote is an easy extension of the Sprinks™ "Healthy Pets on the Go" motto, making pet travel easy for pets and their owners. The Sprinks Travel Tote can be purchased at retail locations within the US and Puerto Rico, as well as on the Sprinks™ website.
Sprinks Pets
Based in San Diego, CA, Sprinks Pets was established by Dr. Kathryn Petrucci in 2008. All Sprinks products are distributed by Animal Care Therapies, and have been manufactured at a cGMP facility within the US. The Sprinks™ product line includes Regul8, Relax, Wipers (deluxe and travel sized), Travel Calm CD, Flora Friend, ProBio Chew, and Travel Tote-Pet Travel Essentials. Sprinks™ products can be purchased online at the Sprinks website, or in a variety of pet retail stores throughout the US. For more information on Sprinks™ pet nutrition products please visit http://www.sprinkspets.com, or for pet travel information or pet friendly hotels visit http://www.sprinkstravel.com .
###