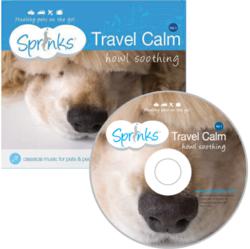 Healthy Pet on the Go
(PRWEB) July 08, 2010
San Diego, CA (PRWEB) July 8, 2010 -- According to the Travel Industry Association, 29 million Americans bring their pets with them on vacation, most of these pets are dogs and 75 percent of them travel by car. Sprinks Pets knows that riding in the car can be stressful for many dogs, and in turn can make the driver and passengers stressed. Sprinks Travel Calm CD offers a natural soothing approach to ease stress using music and calming frequencies that only dogs can hear. The Travel Calm CD is a great solution for dogs of all ages and can be used for hyperactivity, anxiety, traveling, car rides, vet clinics, at the groomers, and when left at home.
The Sprinks Travel Calm CD is a compilation from renowned musician, composer, and sound engineer Felix Pando. This special collection contains what is known as the Pando Effect™ which contains unique sound effects and frequencies specially made for dog's ears. The comforting qualities of the Sprinks Travel Calm CD is able to help dogs feel calm and at ease, and has a positive effect on their emotions. The Sprinks Travel Calm CD is an excellent way to help maintain a dog's emotional well being during stressful situations such as traveling, storms, or unfamiliar situations.
The Sprinks Travel Calm CD features an assortment of songs featured in Felix Pando's Classical Music collection. It includes 4 songs each from the famous composers Mozart, Chopin, and Beethoven. These arrangements contain sound effects that have a soothing influence on dogs, and also contain frequencies undetectable to the human ear to help generate an emotionally calming environment. The CD has a total duration of 57:32, plenty of time to allow for relaxation. The Sprinks Travel Calm CD can be purchased at SprinksPets.com or at a variety of retail locations. You can locate the store nearest you by using the Sprinks store locator http://www.sprinkspets.com/find-store/.
In addition to the Sprinks Travel Calm CD, Sprinks Pets offers many solutions and helpful advice for the traveling pet and pet owner. Sprinkstravel.com is the perfect quick stop for all things pet travel related covering topics such as pet friendly hotels, doggie daycares/boarding, and pet friendly parks and beaches. Sprinkstravel.com also features free and easy to download pet travel checklists to help assist with stress-free pet travel. Sprinks Pets handy travel checklists cover a variety of topics such as Pet Travel by Car, Pet Travel by Plane, and Pet Travel by Boat. Additional information for ensuring that your pet is a "Healthy Pet on the Go" while traveling, visit the Sprinks Travel website.
Sprinks Pets
Based in San Diego, CA, Sprinks Pets was established by Dr. Kathryn Petrucci in 2008. All Sprinks products are distributed by Animal Care Therapies, and have been manufactured at a cGMP facility within the US. The Sprinks™ product line includes Regul8, Relax, Wipers (deluxe and travel sized), Travel Calm CD, ProBio Chew, and Travel Tote-Pet Travel Essentials. Sprinks™ products can be purchased online at the Sprinks website, or in a variety of pet retail stores throughout the US. For more information on Sprinks™ products please visit http://www.sprinkspets.com, or for pet travel information visit http://www.sprinkstravel.com .
###