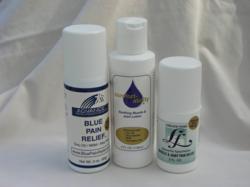 There are affordable pain relief products available from Longview Farms.
Bloomsburg, PA (PRWEB) April 20, 2011
Before you spend time, energy and money on expensive drugs, read about new ideas in pain relief from Longview Farms. Their all-natural secret won't break the bank.
The annual cost of chronic pain in the United States, including healthcare expenses, lost income, and lost productivity, is estimated to be $100 billion. We all know the cost of good health is rising. Along with that, many of us are getting older…a time in life when those nasty aches and pains begin to creep up on us. "There are affordable pain relief products available." says Joanne Long, Vice President of LongviewFarms.com. Long claims her company has been offering pain relief aids for about 17 years - products that do not cost an arm and a leg, but rather, cost on average only $0.67 per day.
Why so cheap? "We offer reasonably priced products because we know first-hand how debilitating chronic pain can be for some people. My sister has suffered with chronic pain for years", proclaims Long. The main ingredient in LongviewFarms.com products is emu oil, an all-natural substance provided by mother nature. Emu oil is a well- known, all-natural anti-inflammatory. A clinical study performed by Dr. Peter Ghosh at Royal North Shore Hospital of Sydney, Australia and Dr. Michael Whitehouse at University of Adelaide, Australia. In 14 days, Emu Oil had eliminated all inflammation caused by arthritis joint swelling and bone abrasion due to lack of cartilage. Additionally none of the patients experienced arthritis pain in their joints and bones after 14 days of topical application. The pain caused by constant friction of bones rubbing together had disappeared.
LongviewFarms.com offers several pain relief aids, with their most recent offering being "Comfort-ability". They also offer a muscle relief roll-on and a gel-based cool massage rub. "Why should consumers have to pay a high price and possible physical harm using non-steroidal anti-inflammatory drugs (NSAIDS) when affordable topical rubs are available?", Long says. According to the American College of Gastroenterology, "if you are taking over-the-counter pain medications on a regular basis, you will want to talk with your physician about the potential for ulcers and other GI side effects. NSAID-induced gastrointestinal side effects can be reduced by using alternative therapy. Your doctor may recommend that you change the medication you are using; or add some other medication in conjunction with your pain medication."
Although emu oil based products are not considered "medication", consumer results have been amazing. "We wouldn't be in business for 17+ years if our products weren't effective." according to Long. Long recommends you always check with your physician regarding medical conditions.
Can LongviewFarms.com pain relief products be the cheapest in the world? Maybe not, but they are affordable and have helped thousands of people gain the temporary relief from chronic pain that they deserve, according to Long.
Contact:
Joanne Long, VP
e-Longview Farms, Inc.
3410 Shaffer Rd.
Bloomsburg, PA 17815
Phone: 570-380-1077
EmuOil(at)aol(dot)com
For Information: http://www.LongviewFarms.com
# # #