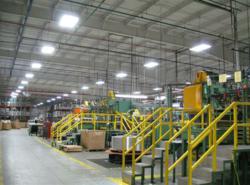 It's a win-win situation with an extremely fast payback. We've seen paybacks as short as 8-18 months. It doesn't get any better than that!
Hudson, OH (PRWEB) April 03, 2011
Bob Taussig, President of ROI Energy shares exciting news about First Energy's long awaited rebate incentive program, affecting businesses all over Northeast Ohio who receive their power from Ohio Edison or The Illuminating Company.
"We encourage businesses all over Ohio to replace older lighting with T5 and T8 energy efficient fixtures, in order to save energy and reduce their utility costs. Both T5 and T8 fluorescent fixtures are proven to help businesses reduce lighting energy costs by as much as 50% or more," says Taussig.
T5 and T8 lighting technology, which have been around for a number of years consume half the energy of older, HID metal halide high bay and T12 fixtures and qualify for First Energy's commercial energy efficient rebate incentive program. First Energy, as part of Ohio Senate Bill 221 is now providing an extremely generous incentive program to encourage businesses to implement energy efficient industrial lighting, warehouse lighting, factory lighting and manufacturing plant lighting, as well as for retrofitting commonly found commercial office ceiling troffer lighting.
Commercial businesses get rebate incentives when we replace or retrofit their existing light fixtures with these more energy-efficient technologies. T-5 and T-8 fluorescent fixtures commonly replace the older HID (metal halide) high bay fixtures found in industrial facilities.
"These new fixtures provide better lighting and consume half the energy. Business owners realize reduced energy costs, get an accelerated IRS tax deduction and receive an extremely generous First Energy rebate after we perform a lighting retrofit project for them. Employees realize a brighter, better working environment, making employees more productive which is an added bonus for everyone."
ROI Energy specializes in retrofitting facilities with the best lighting solutions, in order to provide both dramatic energy savings as well as higher quality light. ROI Energy is a "turn-key" provider making it easy for CEOs and facility managers to turn to one company to handle their lighting retrofit project. We manage every aspect of the project, including providing a lighting energy payback analysis to providing their new fixtures, installation, disposal of old fixtures, recycling of the old lamps, IRS EPAct05 tax certification and handling the pre and post applications required by First Energy to garner these lucrative rebate dollars. Taussig shares, "It's a win-win situation with an extremely fast payback. We've seen paybacks as short as 8-18 months. It doesn't get any better than that!"
For more information, contact Bob Taussig of ROI Energy Solutions at 330-931-3905 or visit http://www.ROI-Energy.com.
# # #